Planning the city so that the journey to buy groceries or to kindergarten does not take more than 15 minutes is seen in many modern cities. For example, Vienna or Paris apply to it. Advisor to the mayor of Paris, scientist and author of one of the versions of the city of short distances, Carlos Moreno, recently visited Prague. Urban planners and politicians support his "fifteen-minute city", but admit that it will take a long time to get there.
When Anne Hidalgo defended her mandate and became mayor of Paris again two years ago, it was with the City of Fifteen Minutes program. The response to this concept was considerable among the residents of the French capital – the mayor received over 50 percent of the votes.
With such high support, she immediately set to work and decided to achieve her goal primarily by promoting pedestrian and bicycle traffic. Her plan envisages that every street in the metropolis will have a path or lane for cyclists. He wants to gain space for friendlier streets mainly by limiting excessive car traffic. According to her plans, the city wants to eliminate 72 percent of on-street parking spaces.
The concept, which is sometimes referred to as "returning to the local way of life", is nothing new. For example, Vienna, Stockholm or the Australian Melbourne are all within short distances to the city, and several cities in Scotland want to be 20 minutes away.
"Cities are among the biggest generators of CO2 emissions, and the main source of emissions is transport. In order to achieve carbon neutrality as soon as possible, it is necessary to radically change the urban lifestyle and shorten the distances for everyday goals," describes Carlos Moreno, author of the mentioned fifteen-minute city concept and adviser to the mayor of Paris .
According to him, the goal is a full-fledged social life in a sustainable city, which instead of one center has several. "It means that housing, work, schools, shops, healthcare and leisure are all within walking distance. This reduces dependence on cars and saves people time that can be used to live more fulfilling and happy lives, " explains Moreno.
"Lots of unnecessary movement will be eliminated"
Prague also cautiously subscribes to the concept. In April, Moreno attended a lecture organized by the city's Planning and Development Institute. "Prague is very monocentric. When you travel somewhere, you often pass through its center," Mayor Zdeněk Hřib (Pirates) describes the situation in the capital.
According to him, the fifteen-minute city is an idea that solved the two main problems of every modern city – the environment and the closely related transport. "This concept contains the answer to how to solve it, how to reduce emissions and how to move around the city more easily. In addition, it also has many other benefits, such as supporting the community or the health of citizens," says Hřib.
Although the project deals with limiting car traffic and supporting pedestrian and bicycle traffic, positive words are heard not only from the city management, but also from the opposition.
"In all cases, it's a process that makes sense. To be able to go somewhere for fun, to do work and to live in one location is very important. Because then a lot of trips, a lot of unnecessary things that burden us all, are of course eliminated, " notes Tomáš Portlík from ODS, opposition representative of the capital city and deputy mayor of Prague 9.
A combination of work, services and housing
The change in approach should be reflected in new neighborhoods first. "The Institute of Planning and Development is preparing various studies for the city, for example it is in charge of the districts. And everywhere we are trying to create a new city that is fifteen minutes away, where work, services and housing are combined. So as to eliminate unnecessary traffic within the city and a lively, friendly environment has been created," says Jaromír Hainc, director of the city's development section.
However, the situation is more complicated for existing districts. For example, in Prague, the ideal walking distance from home to kindergarten should be 600 meters, its non-compliance can be compensated by good accessibility by public transport. In the densely populated parts of Prague, this distance is met, but the overall distance is still ideal due to the greater interest in kindergartens.
The evaluation of the availability of kindergartens, prepared by the Institute of Planning and Development, shows very good coverage in the historic core of Prague. On the other hand, the biggest shortage of places is in the wider center, i.e. in the adjacent parts of the city. Part of the less covered areas are localities with recreational use or with a very low number of inhabitants. However, areas with a significant density of buildings and insufficient presence of kindergartens are in Prague 9, the northern part of Prague 20 (Horní Počernice) or part of Prague 22 (Uhříněves).
Capacity (in)sufficiency of kindergartens established by MČ | Photo: Institute of Planning and Development m of Prague
The institute also assessed the availability of shops. Two-thirds of Prague's residents live within 600 meters (roughly a ten-minute walk) of one of the 249 grocery stores with a full assortment. Another twenty percent of the population lives within twice that distance.
The problem, however, is the uneven distribution of stores. The most accessible shops are in the densely populated districts directly adjacent to the historic center (Prague 2, 3 and 7) and parts with a predominance of panel housing (Prague 11, 13, 15 and 17), where there is a high number of inhabitants and at the same time a dense network of shops.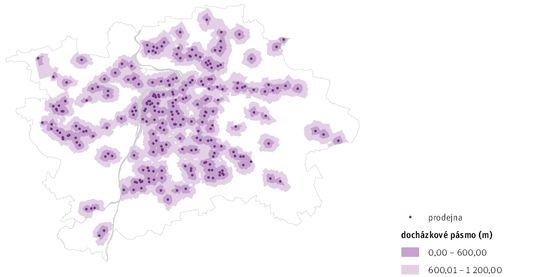 Full-range food stores and their attendance zones | Photo: Institute of Planning and Development m of Prague
On the other hand, there are parts of Prague – mostly peripheral, with a lower number of inhabitants – where people have to rely on their own car or public transport, or use online stores, to buy food.
One such neighborhood is Dolní Měcholupy in the southeast of the metropolis. "We have two smaller shops right around the corner. It's not quite ideal, some products are missing and it's a bit more expensive, but it's enough for small purchases. Lidl is three bus stops away, where most people go for larger purchases," the mayor describes the situation Jiří Jindřich of Dolní Měcholup.
Commuters from the residential mess
Another major obstacle to the implementation of the fifteen-minute concept is the satellite town, the so-called residential mess, where a large number of people still live due to affordability. "This is a sad relic of the 90s, when everyone wanted to be in their own home, everyone wanted a piece of nature and live in the city at the same time. I think we can all see that the concept has long been outdated," says Portlík.
A ring was created outside the capital city, from which most people commute daily for work or services.
"It is obvious that the pressure to use land outside the capital was and is great. It is necessary to cooperate with the surrounding municipalities around Prague in the coordination of territorial development, so that, as far as possible, we concentrate construction around accessible public transport, plan parking lots in the territory as well In the Central Bohemian Region and in Prague, they allowed more apartments than today," says Hainc.
"In the end, the Institute of Planning and Development and self-government are trying to create a new one where, in addition to services, there will also be job opportunities and available places for rest," he adds.
Palmovka and Nové Dvory as a model
Prague wants such a district, for example, in Palmovce or in the vicinity of the planned metro station Nové Dvory on the newly built line D. "Shops and services will be close at hand here. Schools and kindergartens should be reachable on foot. Everything in one place," describes the first deputy mayor, architect and urban planner Petr Hlaváček (STAN). In the future, Letňany should also be added, where the city holds a lot of land.
I am counting on jobs – in Palmovce, among other things, the headquarters of the European Union Agency for the Space Program EUSPA, administrative buildings in Letňany and a cultural center in Nové Dvory should be created. In eight years, construction should begin on Palmovka and Nové Dvory, these neighborhoods should then serve as a model for further construction. "I believe that expeditions will take place there to see what such a full-fledged district looks like," promises Hlaváček with a slight exaggeration.
According to the vice-chairman of the Czech Chamber of Architects, Petr Lešek, the city will still not avoid the requirement for multi-level development and restrictions on surface parking. However, this is only being talked about cautiously in Prague. "Transport is a recurring main topic of municipal elections. And parking in Prague is perhaps the most pressing. We'll see what the next period brings. In general, we need to think about all types of transport in public space. And every city is specific," Hainc from the Planning Institute.
VIDEO: Prague is on the verge of being only for the chosen ones. The state decides for the city, says the head of the Institute of Planning and Development (January 4, 2022)
The demand is higher than the supply and still little is being built. If the state had backed away, we would have moved much further, says the Institute of Planning and Development. | Video: Daniela Písařovicová