News
An increasingly aggressive Russia worries the Nordic countries, which are linking their military forces closer together. – We need to show that we are following along, says Norway's Minister of Defense Bjørn Arild Gram (Sp).

On Monday, the Prime Minister met with his Swedish and Danish colleagues in Malmö to discuss closer defense cooperation.
— There we were briefed on the strategic importance of the Øresund area and the Baltic Sea, and the importance of having control in this area in a crisis and war situation. It is clear that when we get a united Nordic in NATO, then the development in the Baltic Sea will become even more important for Norway, says Gram to NTB.
The contact between Norway, Sweden and Denmark has been greatly strengthened as a result of developments in Europe.
— The meeting was an opportunity to show solidarity and support each other and develop cooperation. Among other things, Norway has taken the initiative to develop the military exercise Cold Response, which we arrange every two years, to become Nordic Response. This means that this will largely be a joint, Nordic exercise, says Gram.
News about name
Former head of the Norwegian Armed Forces' special forces for a new job at KPMG
Must be able to use each other's airspace
The Minister of Defense also mentions several other agreements from the meeting:
The cooperation agreement NORDEFCO (Nordic Defense Cooperation) must be reviewed and adapted to a new era with a united Nordic region. Iceland and Finland are also involved in this collaboration.
The trilateral agreement on operational cooperation, which was concluded between Norway, Sweden and Denmark last year, must be updated so that it passes into a joint NATO planning work when Sweden becomes a fully worthy member of the organization.
The new agreements also open up the possibility of using each other's military infrastructure and airspace, with the aim of gaining better control over the region, Denmark's Minister of Defense Morten Bødskov tells news agency Ritzau.
— I am in charge of dealing with threats
Russian naval and aircraft are behaving increasingly aggressively in the Baltic Sea, and both the Nato country Denmark and Sweden, which will become members of Nato, continue to experience Russian violations.
"It is obviously completely unacceptable from the Russian side, and we have made that clear," says Gram.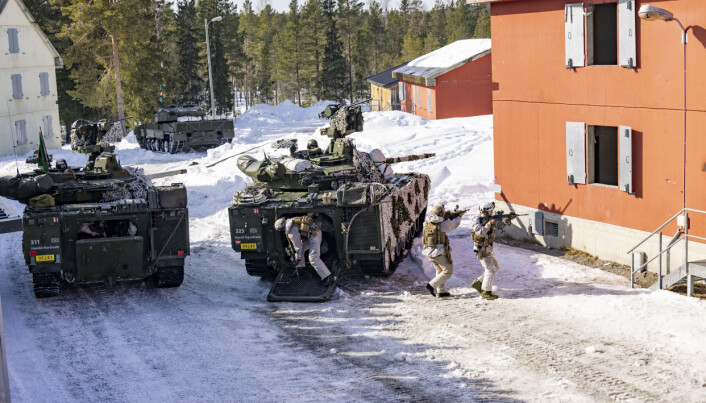 News
The chiefs of defense in Norway and Denmark have exchanged experiences on harassment cases
— How is the dialogue with Russia from the Norwegian side?
— Since the invasion, there has been minimal communication. It is primarily the fishermen's cooperation and preparedness and rescue services in the north where the lines of communication are open. But on the whole, the dialogue has slowed down considerably, he says.
News
Nordic defense ministers to discuss Russian violations
— How worried are you about the development?
— We have introduced a major change in rhetoric and various forms of threats and hybrid threats. We are of course very concerned about the development, but we also need to show that we are following along and are able to deal with threats that arise, emphasizes Gram.
Do not want to comment on further aid to Ukraine
In a few weeks, the countries will meet again in Finland, before there are new talks in Sweden. On Thursday of this week, some of the parties will meet again in connection with the international donor conference for Ukraine in Copenhagen. Gram is participating on behalf of Norway.
— What will be Norway's contribution there? Are we going to provide additional military aid to Ukraine?
— We have said all along that we are evaluating new donations and support for Ukraine, but it has been our practice not to comment on this during the process. I have nothing to contribute before the conference, but it is absolutely crucial that Ukraine has continued to support its fight and Norway must of course contribute with that.