The Chinese government publication called the actions of Lithuanian politicians towards Taiwan a nasty political trick aimed at favoring Washington.
"One of the possibilities is to apply sanctions to Lithuanian companies that have business in Taiwan and maintain economic relations with the separatists of this island. First of all, if it is determined that Lithuania's export to the island of Taiwan violates the EU's own export control measures or restrictions, China must take appropriate countermeasures against Lithuania," Global Times writes.
Global Times is a propaganda portal in English. It often reflects the position of the authorities, but its tone is often harsher than that of official representatives, and threats do not always come true.
Lithuania, with increased pressure from China, searched last year, when a Taiwanese representative office was opened in Vilnius. China has severely restricted trade, leading the European Commission to the World Trade Organization.
T. Janeliūnas: The Chinese market is closed to Lithuanian business
Professor Tomas Janeliūnas of the Institute of International Relations and Political Sciences of Vilnius University says that "Global Times" is a direct mouthpiece of the Chinese Communist Party's propaganda to the world.
"He often conveys messages that at least partially reflect the government's position, and often with clear threatening elements. However, the current announcement is simply a continuation of China's repeated threats," 15 minutes said the political expert.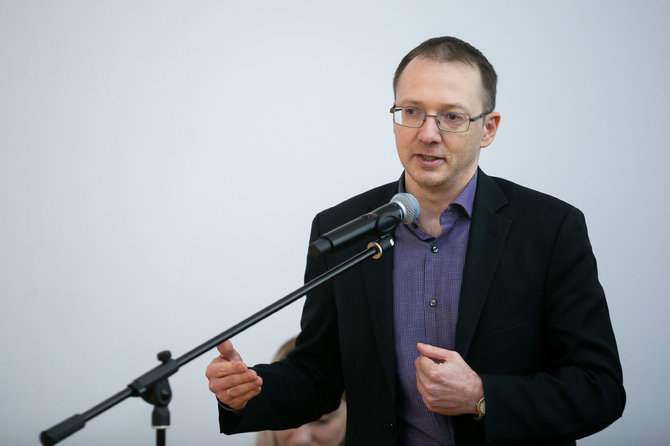 Žygimantos Gedvilas/BNS photo/Tomas Janeliūnas
T. Janeliūnas emphasized that Lithuanian companies actually do not have access to the Chinese market, regardless of whether they trade with Taiwan or not.
"From the text, one could suspect that it is also about secondary sanctions against companies, such as, for example, the USA applies when imposing sanctions. However, precisely because of such possible sanctions, the EU has already started a case in the World Trade Organization, and this, at least at the beginning of this year, stopped China from taking further actions", said T. Janeliūnas.
"Of course, China can use as pressure doubts, which would officially be possible doubts whether the current threat would change the existing status quo," he said.
Lithuanian relations with Taiwan
Global Times warns that sanctions may target business, contacts Taiwanese.
"Amid rising tensions across the Taiwan Strait, mainland Chinese authorities last week announced economic sanctions aimed at 'Taiwan separatism.' If some Lithuanian politicians and companies decided to side with the "Taiwanese separatists", the same fate awaits them", writes Global Times.
When asked about Lithuanian business interests in Taiwan, economist Aleksandras Izgorodins says that Lithuanians are gradually finding a niche there.
"The volume of trade with Taiwan is developing very rapidly – both in one direction and in the other direction. This means that the political efforts to improve relations between Lithuania and Taiwan are largely bearing fruit. At least from a statistical point of view, Taiwan benefits the most from the increase," the economist notes.
During the five months of this year, the export of Lithuanian goods to Taiwan amounted to 9.4 million. euros. This is 36 percent. more than last year in the same period.
"It can be said that the increase in exports was caused by the increase in export prices, as raw materials and goods of various prices increased. But it can be noticed that Lithuania started exporting more goods to Taiwan. If we look at the structure of goods of Lithuanian origin to Taiwan, it becomes very diversified. Optical measuring and inspection instruments, lasers, wood and its products, various chemical products, components for COVID vaccines grew rapidly. Now it seems that the first more serious export categories are emerging, Lithuania is starting to establish itself in certain niches in the Taiwanese market", commented A. Izgorodinas.
According to him, the worse news is that Taiwan's exports to Lithuania grew much faster than Lithuania's exports to Taiwan.
"For example, during the five months of this year, Lithuanian imports from Taiwan amounted to 63.7 million. euros. in the same period in the previous year – 30.8 million. euros. This means that imports from Taiwan have grown a little more than twice in a year," he calculates.
Accordingly, Lithuania's trade balance with Taiwan has worsened, the economist notes.
During the five months of last year, we had 24 million. foreign trade deficit of EUR 54 million this year with Taiwan. Euro.
A. Izgorodins notes that he calculates the foreign trade balance by deducting all imports from the export of goods of Lithuanian origin. Other experts, based on a different methodology, can also calculate re-exports.
Nancy Pelosi's visit
Tensions over Taiwan especially increased last week, when US House Speaker N. Pelosi visited the democratically-ruled island of Taiwan, which is claimed by China.
Foreign Minister Gabriel Landsbergis stated that N. Pelosi "opened the door to Taiwan much wider" and said he was sure that "soon other defenders of freedom and democracy will enter through it."
International media, including the Brussels EUobserver and the language The New York Times, claim that Lithuania is the only one of the European Union countries to have welcomed N. Pelosi's visit at the government level.
The Lithuanian diplomatic service draws attention to the fact that the statement after the visit was also distributed by the most influential group of Western countries, the unifying Big Seven, together with the head of the EU's foreign policy, Josep Borrell. They stated that "it is unjustifiable to use the visit as a pretext for aggressive military activity in the Taiwan Strait."
The American publication "The New York Times" notes that despite criticism of China, Europe is in no hurry to express strong commitments to Taiwan, and Lithuania is an exception in this regard.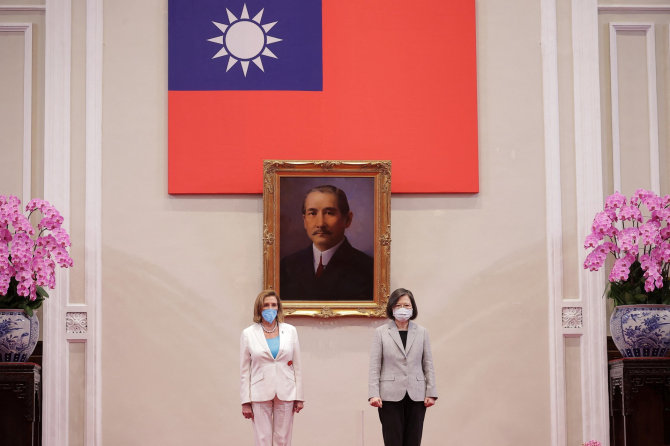 Reuters/Scanpix photo/Nancy Pelosi with Taiwan President Tsai Ing-wen
"It is more important for the Europeans to maintain open trade with China and its huge market, while trying to prevent any military aggression against Taiwan together with Washington." "No European country, while pro-democracy, has shown much willingness to step aside to help defend Taiwan militarily, as US President Joe Biden sometimes promises to do (until the White House corrects him)," The New York Times recently wrote. ".
As the publication notes, most European leaders have been silent about Pelosi's visit to Taiwan.
"It's not their fight, it's America's fight, the Biden administration has strongly confirmed that the Indo-Pacific region is its priority," said Philippe Le Corre, a China scholar at Harvard University. "Taiwan is relatively calm and most Europeans think the trip was a mistake, which is a source of tension when Europe was at war."
Although Europe is increasingly wary of new investment in China, Taiwan is seen as an American problem, as is the Pacific region indeed, where Europe has little military resources.
"Continuous US support for Taiwan has nothing to do with democracy – it's all about geopolitics and reputation," said former French ambassador to the US and the United Nations, Gérard Araud.
The New York Times states that Lithuania was the only country in the European Union that openly supported M. Pelosi's visit.
"However, Lithuania and Beijing are at loggerheads over Taiwan – Vilnius allowed the new unofficial Taiwanese embassy to use the word "Taiwan" in its name, and Beijing retaliated with trade restrictions. Other countries of the European Union were indignant that Lithuania, without consulting them, established what they considered an unnecessary problem," writes The New York Times.
Still, criticism of China has prompted European interest in the fate of Taiwan, which, like Ukraine, is another small democracy threatened by a nuclear-armed autocrat.
In October last year, Taiwan's foreign minister, Joseph Wu, began his attempts to woo Europe, stopping in Brussels for informal meetings with European Union lawmakers. The European Parliament overwhelmingly approved a resolution calling for stronger ties with Taiwan, which it described as a "partner and democratic ally in the Indo-Pacific region".
Parliament then sent its first official delegation, defying Beijing's threats of retaliation and sanctions against some news lawmakers.
However, the Parliament is essentially powerless in foreign policy and does not speak on behalf of the European Commission, let alone the member states.
Britain has been more outspoken in its criticism of China than other European countries, and a visit to Taiwan by the House of Commons foreign affairs committee has long been mooted.
But the British trip will take place in November or December, after the Communist Party Congress. Before that, Chinese leader Xi Jinping wants to show his strength to ensure he stays in office for another term. According to many analysts, it was the timing of Ms. Pelosi's visit that angered Xi Jinping and led to such a strong response, The New York Times writes.
The Ministry of Foreign Affairs of Lithuania, for its part, said that "democratically elected representatives of democratic countries have the right to visit Taiwan and develop bilateral cooperation".
"Nancy Pelosi's visit is not the first or only visit by a high-ranking member of parliament. The chairman of the Czech Senate has visited Taiwan, six members of the US Senate and Congress visited there in April, Speaker of the Seimas Viktorija Čmilytė revealed her intentions to gather parliamentarians from EU countries for a possible visit to China," reads the MFA's comment.
The visit of Vice Minister of Communications Agnes Vaiciukevičiūtė to Taiwan with the Lithuanian business delegation also received criticism from the Chinese.
At the beginning of the visit, the vice-minister said that the cooperation opportunities between Lithuania and Taiwan range from the production of semiconductors and electric cars to the development of advanced technologies.
Such a visit is not unique – it is on a similar level with the Taiwan Community and other European countries.
Representation dispute
China applied economic and diplomatic pressure in response to the opening of the Taiwanese representative office in Vilnius. Communist Beijing considers the democratically governed island part of it and accuses Lithuania of violating the promise made in 1991 not to establish or promote official relations with Taiwan.
The Chinese were mainly angered by the name of the representative office – the Lithuanian institution is called the Taiwanese representative office, in English the representative office of Taiwan. According to experts, in Chinese it sounds like a representation of Taiwan.
Lithuania is the first country of the European Union to allow the use of such a name. In other European countries and the United States, institutions operate as Taipei's economic and cultural offices, emphasizing their non-political nature.
In protest, China recalled the Lithuanian ambassador from Vilnius and ordered the embassies in both countries to be downgraded to chargé d'affaires offices.
Lithuania claims that China cannot unilaterally change the status of diplomatic missions. After receiving Beijing's demand for new accreditations, all Lithuanian diplomats returned from Beijing last year.