Updated: 08-01-2022 – 18:10
A BRUZZ camera crew ran into problems this morning due to a bus lock in the road surface. According to Brussels Mobility, incidents with these locks regularly occur and are not a good solution in an urban context such as Brussels.
"There are a total of 25 bus locks in Brussels. It is located on both regional and municipal roads," says Steven Fierens, says van Brussel. To be clear, the Attica, where the camera crew got into trouble, is a municipal road. The municipal council of Woluwe-Saint-Lambert is therefore responsible for its maintenance.
"Putting a figure on the number of incidents with bus locks is difficult, because they are not always indicated," says Fierens. "But also for cyclists it is doubly careful".
Big hole in the road
implemented, a bus lock is a large, square hole in the road surface that is impossible for a normal car to drive over. Such a lock is announced with a traffic sign, but it went wrong this morning for a camera crew from BRUZZ. They ended up in one of the 25 locks in the Atticastraat in Woluwe-Saint-Lambert, because the traffic sign that was supposed to announce the lock was completely hidden in the greenery.
Since the traffic sign is barely visible, road users also seem to have received a narrowing of the road. Until they are suddenly surprised by a deep pit in the road surface, which it is impossible to drive past without damaging your car.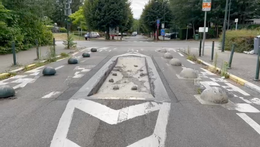 Not an ideal solution
Fierens says that bus locks are actually not an ideal solution in an urban context. In recent years, for example, many were surprised by the sudden unevenness in the road surface, resulting in many later crashes. "We will therefore no longer install special locks in future projects where buses have to be given priority," says Fierens. "Instead, they use ANPR cameras, or slim cameras. Bus locks will therefore gradually disappear from the Brussels streets over the years."