The real estate market continues to be booming in the post-panemia period, and the real estate sector remains quite luxurious for investors. In the largest luxury real estate, the Algarve and Lisbon regions are where the most expensive homes in Portugal are found.
And it is in the Algarve where you can find the most expensive house in Portugal, specifically at 25 million euros. There are other mansions, palaces and estates that complete the Top 10 of the most expensive in Portugal prepared by the idealista portal.
1. Luxury villa on the seafront, Algarve: villa located on top of the cliffs, with a plot of 5,289 m2 and 407 meters built. It has stunning views and a large infinity-style pool deck with waterfall, commissioned with a mosaic, which ratifies an exclusive feature of this property.
Price: 24,500,000 euros
2. Modern villa with sea view in Quinta da Marinha, Cascais: Home with a magnificent exterior with pool of clothes and areas of service, laundry, room, office, kitchen, room of treatment of clothes, space and garage for 4 cars.
Price: 24,500,000 euros
3. Villa with pool in Quinta Patino, Cascais: Ground with 4,950m² and a construction area of ​​1322m². It has an elevator, gym, sauna, Turkish bath, indoor pool, wine cellar and garage for 8 cars. It also has an apartment for caretakers with independent access.
Price: 14,750,000 euros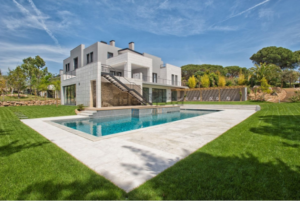 4. Mansion with penthouse in Quinta do Lago, Algarve: has with 6 bedrooms, 9 bathrooms, a rooftop with a fully equipped bar, and all floors are accessible by elevator. It also has a cinema room, sauna, outdoor swimming pool, jacuzzi and landscaped gardens.
Price:14,750,000 euros
5. Charming villa with views in Quinta do Lago, Algarve: With stunning views over the Ria Formosa Nature Reserve, lakes and sea, it has a covered terrace, swimming pool and garden. As outdoor areas with terraces, swimming pool and landscaped garden extend down to the lake, ideal for contemplating the sun and admiring the picturesque sunset.
Price:14,500,000 euros
6. Mansion in Quinta do Lago, Algarve: Home with 11 bedrooms, 10 bathrooms, an office room, games room with bar, gym, sauna, Turkish bath, tennis court, video surveillance, home automation, infinity pool and well-kept gardens.
Price:14,500,000 euros