At that time

20 years ago, Wattwil was a role model for the city of Zurich with its skate park
From times past – the "Toggenburger Tagblatt" publishes events from times past every week. What happened in Toggenburg 100, 50, 20 or 10 years ago?
100 years ago
July 1: Stone. The small Catholic parish of Stein im Obertoggenburg has been trying to get its own church for a number of years. Due to the special intention of the current pastor, the church building fund has grown to CHF 70,000. The church members themselves make great sacrifices through house collections and collections in the church.
July 1: Wattwil. A lively picture of enthusiastic sports love unfolded last Wednesday evening on the community area. Anyone who watched the game with interest as a spectator and saw the slender, tanned figures move in noble football manners must involuntarily be spurred on to line up and compete.
Since this football club is still in its infancy and, like everywhere else, still has financial and significant difficulties to overcome, this club offers full guarantees in every respect that it is actively striving and trying to bring out as much as possible in its cause, whatever will soon be achieved with even better technical sophistication.
50 years ago
3rd of July: Wattwil. Start of the Wattwil-Lichtensteig bypass. The Government Council of the Canton of St.Gallen has approved the implementation project for the first stage Stegrüti-Rickenstrasse of the future Wattwil-Lichtensteig bypass at a total cost of CHF 21.5 million. The building department will carry out the public planning requirements.
3rd of July: Wattwil. A married couple from abroad was lucky in misfortune when their car went off the road after overtaking and ended up in the Thur. After the accident, there was a large crowd of sensation-hungry spectators who wanted to be there when the "floating car" was pulled out of the water with a motor winch.
20 years ago
July 4th: Wattwil. A Zurich delegation met with the mayor of the municipality, Markus Haag, and those responsible for the Wattwil skate park "alley oop". Topics at the meeting were the realization of such a park and its social qualities. Problems were not hidden either.
The reason for the meeting is the City of Zurich's plan to build a similar park. In order to achieve this goal, a club was founded, consisting of various freestyle sports such as skateboarding, BMX, but also breakdance. The association and representatives of various offices are now looking for a site in the city of Zurich that would be suitable for the realization. Not an easy task, because the Zurich skate park is to be six times larger than the Wattwil one.
10 years ago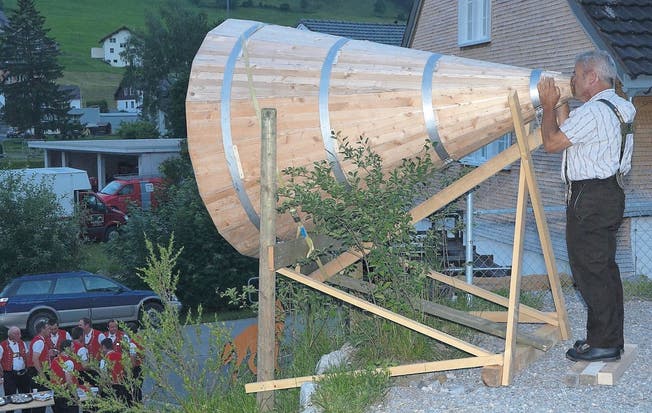 2nd July: Old St. John. "Passing over" is a change from one state to another. The latest exhibition "Öberefahre – Abefahre" in the Klangschmiede Alt St.Johann is dedicated to this topic. "What's that?" a visitor asks when she sees the wooden structure next to the water wheel at the Klangschmiede. "It's an oversized begging funnel," explains Klangwelt director Nadja Räss. She conceived and realized the exhibition together with the artist Sonja Rüegg and the white cooper Werner Stauffacher. The exhibition begins with this same begging funnel. (red)