Circulate on Facebook a to send of June 2022 with a photograph showing a gas station pump with prices displayed. The cost is much lower than the average for the period, which has now exceeded two euros per liter: 1.3 euros for the green, eg 1.17 euros for diesel. Above the photo appears a text explaining the figures available in fuel prices in the Republic of San Marino.
For those in a hurry:
The photo does not show the prices of San Marino, but those of Livigno, where excise duties are not applied.
The image does not date back to June 2022, but to March;
Gasoline prices in San Marino in June 2022 are much higher than those in the photo.
Analyses
The post reads: "WHAT A SHAME", while the image shows the writing without subjunctives:
«Hoping they won't censor this photo as well …… .. FUEL COST IN SAN MARINO THIS MORNING. Let's reflect PEOPLE. "
A reverse image search on Google is sufficient to deny that the photo was taken in San Marino, as well as the date declared. Prices shown are for March 2022, not June. The image was used on March 7, 2022 in a item de The New Padania where it is highlighted that the photo shows a distributor in Livigno, the municipality in the province of Sondrio that enjoys a status – the special one of duty free zone – obtained in 1910, thanks to which VAT and other taxes, including excise duties, do not are applied. This explains the reason for the low prices.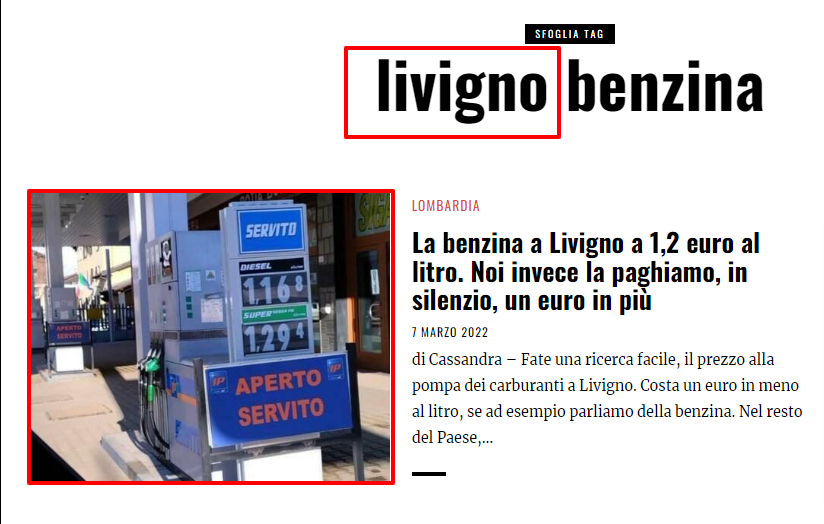 Further confirmation that the distributor in question is located in Livigno, we have from this article of the Corriere della Sera, where you can see the wording «EXTRADOGANALE», the beginning of which is also present in the image on Facebook, at the top right. In a piece anotheralways of Corriere della Sera it is also specified that the price of gasoline in San Marino in June 2022 is indeed lower than that in Italy, but only by "10 cents" per liter. The same prices are also in another article of March 2022, of Legnano news.
Conclusions:
An image invites people to reflect on the price of the petrol you find, that the pump shown is located in San Marino. The distributor is actually in Livigno, a duty-free area where excise duties are not paid.
This article contributes to a Facebook project to fight fake news and disinformation on its social platforms. Laws here for more information on our partnership with Facebook.
Read also: