The event took place in one of the most beautiful historic places of Monegasque heritage, the emblematic Hôtel Hermitage in Monte-Carlo, transformed for the occasion into a princely palace. Royal meetings with strict etiquette, glamour, luxurious outfits and an ad hoc atmosphere were on the agenda.
Strangers discovered the magic of royalty and were transported to the world of fairy tales. At the end of an unforgettable evening, the guests of this royal ball, carried away by the magic of Monte-Carlo, had to come back to reality, after an extraordinary experience… of mortals. An ideal setting took them to an imaginary and distant country for a few hours. Many celebrities, businessmen, politicians or members of royal houses participated in this event which glorified culture, art and romance. Fashion adds to the magical vibe of the night with luxurious dresses, lavish accessories and beautiful costumes.
Distinguished guests of the event, they came from all over the world to pay tribute to the elegance and the memory of the balls of Princess Grace of Monaco. The singer and UNICEF ambassador, Delia Grace Noble, was the artistic director of the evening. Everything was settled like clockwork: decoration, colors, music, dance and culture.
All participants and actors experienced the magnificent performance of a real production involving more than 100 artists, including the National Orchestra of the Italian Carabinieri Army, the Czech national artistic dance team, flag throwers, singers opera and variety shows, performers, instrumentalists or international ballet stars. More than 40,000 peonies and pink roses adorned the walls, tables and entire Salon Balle Époque of the hotel, filling it with an enchanting fragrance. At the same time, Alina Neacsa, floral designer for the royal houses, proposed a perfume dedicated to the event.
The Grand Bal des Princes et des Princesses is the rebirth of a dream. After the previous editions in Venice and for the closing of Expo Dubai, the glamor and fantasy will still be displayed on other continents. Thus, they will go to Burj al Arabe in Arabia, a suitable place if it is. Other fascinating places like London, Hong Kong, United States, until the Osaka Expo in 2025.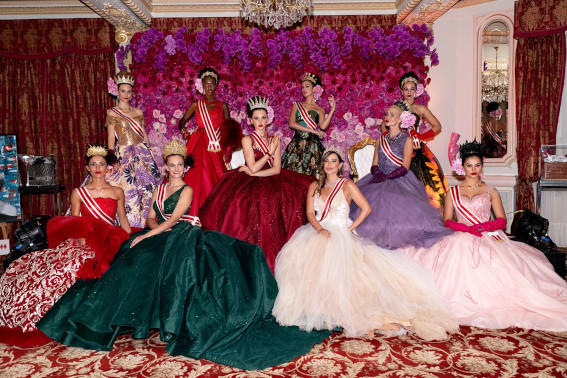 – photos © Noble Monte Carlo –