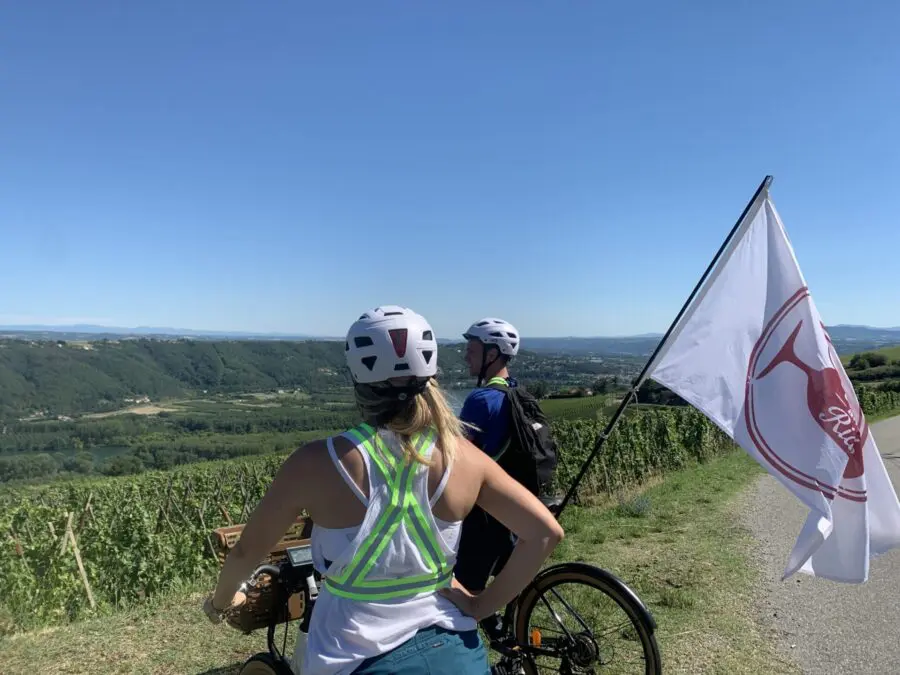 Wine and Ride (credit: Abigaël Urbès)
Tastings, terroir, meetings and cycling, this is the cocktail offered by Wine and Ride. Or a trip via the wine routes by bicycle.
Established in Lyon just a year ago, Wine and Ride offers an unprecedented discovery of the region and its products. However, the story of this company absolutely did not begin here. Wine and Ride was created in Argentina in 2016. The goal was to develop sustainable tourism, by offering a low-CO2 activity that allows travelers to get to know the country they are visiting in a more authentic and immersive way. When Antoine discovered the concept in Mendosa, he wanted to set it up in his region of origin: Auvergne-Rhône-Alpes.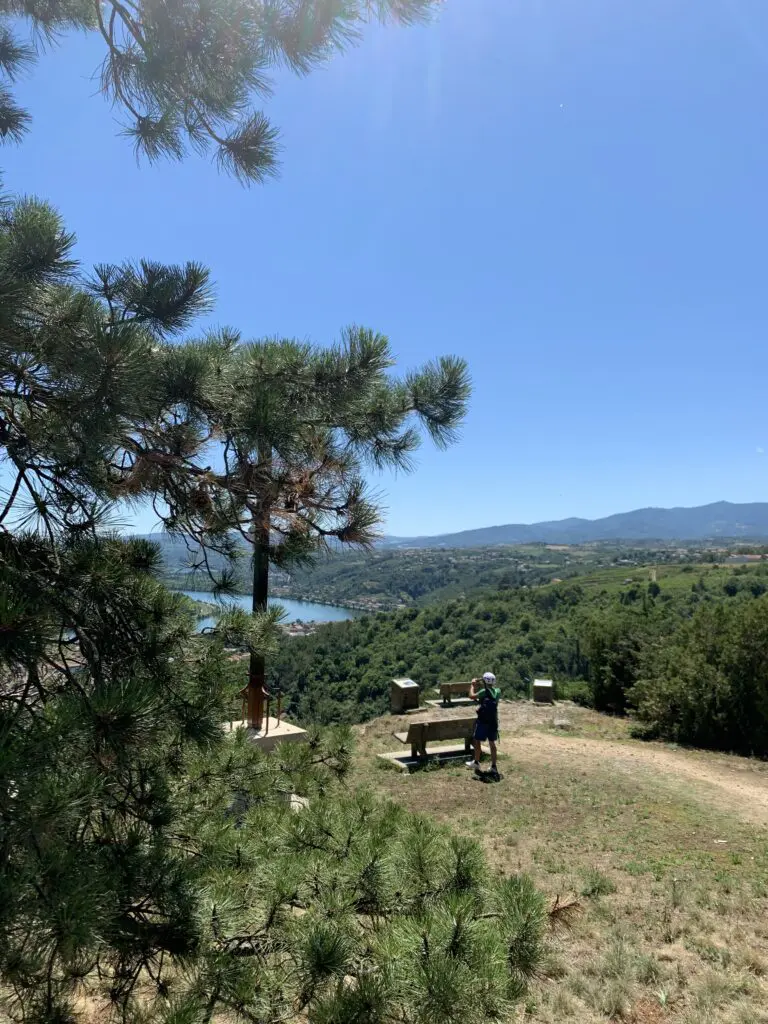 The landscapes of Pilat
It is on the banks of the ViaRhôna and at the bottom of the Pilat regional natural park that Antoine and Matéo welcome visitors. This location was chosen by Antoine, so this choice is purely sentimental: "When you've spent a lot of time traveling, you also like to come home. Here I'm not far from my family." In addition, the founder of Wine and Ride in France, was also keen to promote the region. "Often, when we talk about Pilat, very few Lyonnais know about the natural park that is next to their home. They immediately think of the Dune du Pilat !"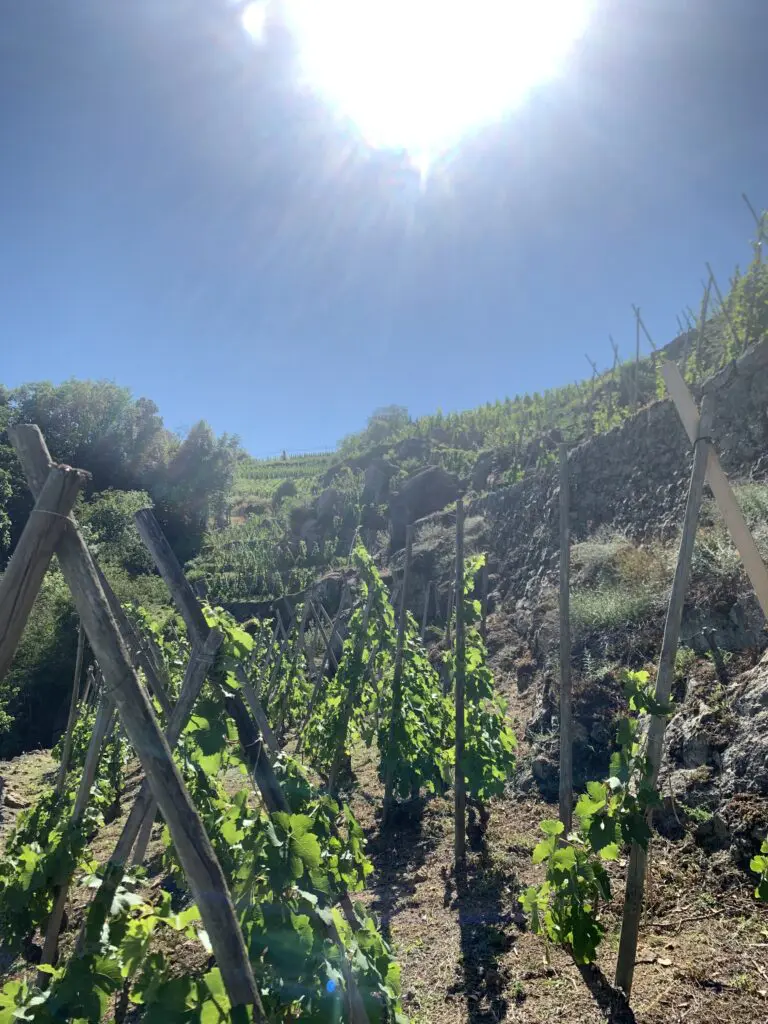 To cross the park and discover the villages hidden there, the bikes have electric assistance. And this is not negligible! Indeed, some climbs are quite steep, but the scenery at the top is breathtaking. When weather conditions permit, it is possible to see Mont Blanc and the Pyrenees very clearly.
The bikes are easy to use, and the autonomy of the
battery was seen to be able to last the time of the journeys. However, for cyclists who have their own bike, it is possible for them to keep it (a price adjustment is planned).
The routes were worked on for a month. A month during which Antoine traveled 2,000 km and met around a hundred craftsmen.
Regional gastronomy
Thanks to its meetings, Wine and Ride offers 3 different routes:
Wines and gastronomy

: a journey through the heart of the Condrieu with encounters with breeders, winegrowers, artisan bakers, butchers, cheese makers, etc. Who cultivate all their products in a responsible and respectful way;

Wines and history

: a guided and commented tour of various archaeological sites in the region, with a visit to a vineyard and a tasting;

Wines and artisans

: if you can't decide between wine and beer, this course is for you! Wine tasting with visit to the vineyard, and also tasting of craft beers with visit to the breweries: this is one of the most complete routes.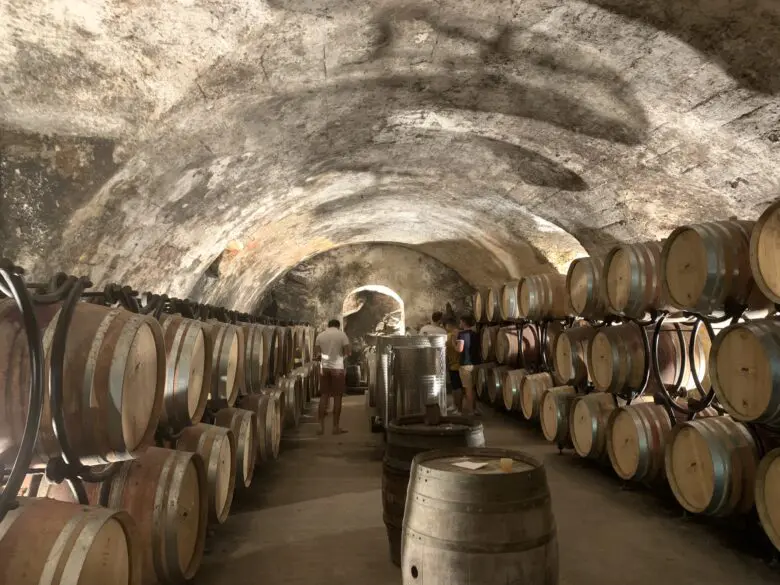 A customizable offer
Depending on what you choose, prices range between 75 euros and 185 euros. Wine and Ride adapts to your desires, you can all choose: the formula, the duration, with or without a snack, etc. And it's quite simple!
To begin, you must specify whether you are an individual or a company. Then, choose the duration (full day with lunch, or half-day), one of the 3 courses, the classic or gourmet formula (with a snack), with your bike or the Wine and Ride bike. Then, indicate the number of participants and the date.
Sports fanatics might be left wanting. The proposed experience is intended for visitors wishing to discover the region in a fun, participatory and relaxing way. Wine and Ride is committed to bringing tourism to a more sustainable alternative.