Currently
Photo
Rail traffic is stopped and firefighters are currently evacuating passengers
Today, around six o'clock in the morning, on the railway line from Pilsen to Prague, the R 753 express train derailed after hitting a piece of rock, which apparently was released by the night rains and it fell into the track. Specifically, she derailed the locomotive and one car, the rest of the train remained on the tracks.
All rescue forces have left for the scene, firefighters are currently evacuating about a hundred passengers and rescuers are treating several slightly fifty injured passengers, serious injuries are already ruled out. The intervention of firefighters and rescuers complicates the inaccessibility of the place where they have to get on foot along the track.
According to information from the site, there is a risk of further falls of pieces of rock, so traffic in the section will be interrupted for the whole day, according to the Czech Railways website, and alternative bus transport is provided.
Photo by SŽDC and ZZS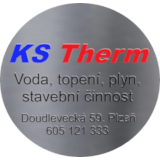 KS Therm
We offer plumbing, heating and gas work, including revisions. We supply and install heat pumps, solar systems, recuperation, cogeneration units, boilers, floor and wall heating or complete heating systems. We provide insulation of buildings, replacement of windows and risers and complete bathrooms.