Failing to leave Ukraine made it easier to breathe
Julia arrived in Lithuania almost a month after the start of the war in Ukraine. "I kept trying to leave, but it was very difficult. At first we had to go to Poland, to the dad of my baptism, but we failed. Later, getting ready to ride with one of the people, but the disruptions that occurred again failed. for the second time when I was not able to leave, I was angry and thought quietly that it was good that I had failed and that I would stay in Ukraine, "says Julia.
She admits to being a housewife: "We live at home in Ukraine with my parents, my sister's family. There are a lot of people in the house all the time. I communicate a lot with friends and relatives. The journey was really hard for me. "
Still, delaying longer and staying in his hometown in Ukraine was too dangerous.
"Although there are no military operations in the city where we live, there are two military bases, one of which is only 20 meters from our yard. The day the war started, the man called me in the morning, woke me up and said he was blowing up the country. I say no one explodes anything. When we found out that the war had started, my daughter and sister and I went to the village with my aunt, but we only stayed there for a week. It was too hard when my parents were one, my sister and another, my sister and my spouse were still elsewhere, so we returned home, "Julia continues.
He thought he was leaving for a month and a half
Julia's husband got a job in Lithuania a few months before the war – he came here to earn money for a family car. "The man repeated a month since the beginning of the war that I would go to Lithuania, but I was still late. When the husband's work manager found a house in Širvintos for us and a colleague who worked with my husband and invited me to come, I decided to leave the house. We were lucky to be able to take a bus going straight to Vilnius without any transfers. Dad got us on the bus and said goodbye, at that time we thought it was a month and a half, Julia said.
– We put my daughter's cradle in the back of the bus and the baby was very calm all the way – a real miracle. It was only near Vilnius, heavy for half an hour, that she started to worry and cry – she got tired of driving, – recalls Julia herself, who did not sleep all the way herself:
It was calmer after arriving in Poland, where the bus stopped at the base for helping Ukrainians. "It was possible to eat there, pick up things, diapers for the baby. And I was so reassured – after all, we were just strangers coming to a new country, and I came to pick up one sandwich with tea to eat, and they offered me one, another sandwich, pancakes, and the man on the bus fed them all with sausages baked here. tells Julia.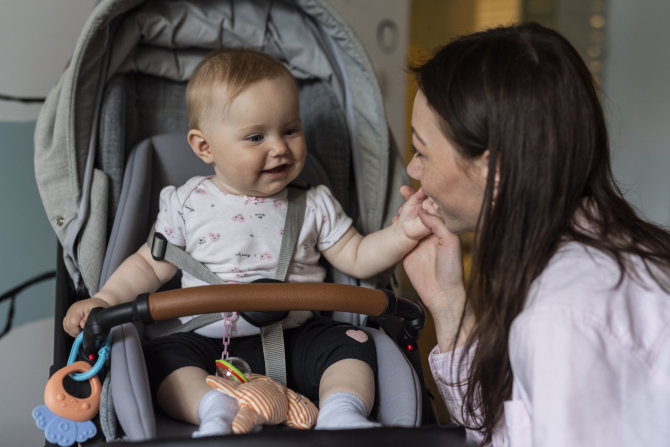 Photo by Dalius Pacevičius / Julia with her daughter
The attention and support of the Lithuanians facilitated the arrival
Julia and her daughter have come to Lithuania for even more support and support. "The man met us in Vilnius and immediately went to our house in Širvintos. Elena, the head of the children's day care center in Širvintos, visited Elena first. She invited me to shop. I thought I would buy diapers for my daughter, and the head of the day center started asking us what we needed and bought everything we needed, as well as dishes, neighbors and other necessities, "recalls Julia. She was uncomfortable, she said, because she did not know the people she had just met, but at the same time, such attention made it easier to arrive immediately.
Feeling grateful, Julia offered to help the future and help Save the Day. "At first I didn't even understand what the children's day center was like. On the day I first visited it, the center had received support items – I helped to sort them out, tidy them up, cleaned the dust, and washed the floor. Later I often came to help, I played with the children. It was useful for me, because I felt needed, and I didn't sit alone at home all day, "says Julia.
Julija not only became friends with the parents of the children who visited the children's day center, but also the residents of Širvintos began to recognize her after a while, and greeted her in the city.
"In the last weeks in Širvintos, I have already recognized the people I met, learned who to say hello to, and who to talk to. For example, a week before leaving for Vilnius, we talked about the children with the constant meeting – she boasted about what her grandchildren were already paying for, and what my Ania had learned. Passers-by, the inhabitants of the city, whom I would not have even noticed in my hometown, become expensive and come to a new place. In a stranger, you cling for complicated things in the country, "says Julia.
There are more opportunities in Lithuania, but I really want to go home
Now Julia has to work in Lithuania again – they got a new job near the capital Vilnius, where the whole family moved.
"Although the apartment we managed to rent is in an old house, only we live in it – we had to share the living space in Širvintos with the family of a man's work colleague. The most important thing was the man nearby, because the man returned to Širvintas after working in Vilnius only on weekends. Now every day together a man can see how the baby grows. "A few days ago, Ania started crawling on her knees and the man saw it," says Julia.
Despite the better life and security, Julija admits that she thinks that this is the last one in Lithuania and will soon go home.
"When I don't think it's easier, but there are days when I go, I see a tree growing near our home in Ukraine, I go and I see a wheelchair similar to my friend's house. We understand that even after the end of the war, it would be better to stay here – more opportunities, better work, higher salary, but we really want to go home, "Julia opens.
It would be better to stay here – more opportunities, better work, higher salary, but you really want to go home.
She also constantly thinks about her parents and her sister's family who stayed at home: "Just a week or a few weeks after my departure, the oil base in the city where we live was blown up. Thank God everyone is healthy. They are good – they help each other together.
True, mom lost her job, too. My sister doesn't have a job either, and she paid her husband very little for a month of work, but we heartily, although we live in the city, all the piglets live in the village, and she helps with everything, "says Julia.
It's scary that people in military uniforms have become commonplace
As soon as it is possible to drive, as soon as it is safe in Ukraine, Julia and her husband and daughter plan to leave Lithuania and return home.
"I am very sorry for Ukraine, it is a pity for the guys who are dying. It happens that I don't sleep for half a night, I sit, I think, I remember crying. It was very scary in the first days of the war, when everyone was in a panic, ran away, in the shops, pharmacies, at the ATM queue, everyone was going somewhere. In the last days, when I had already decided to leave, I was brought in from the county to the military unit operating next to us. Among them are both ordinary village children and serious entrepreneurs. All with bags. I looked into their eyes and saw fear, "Julia recalled.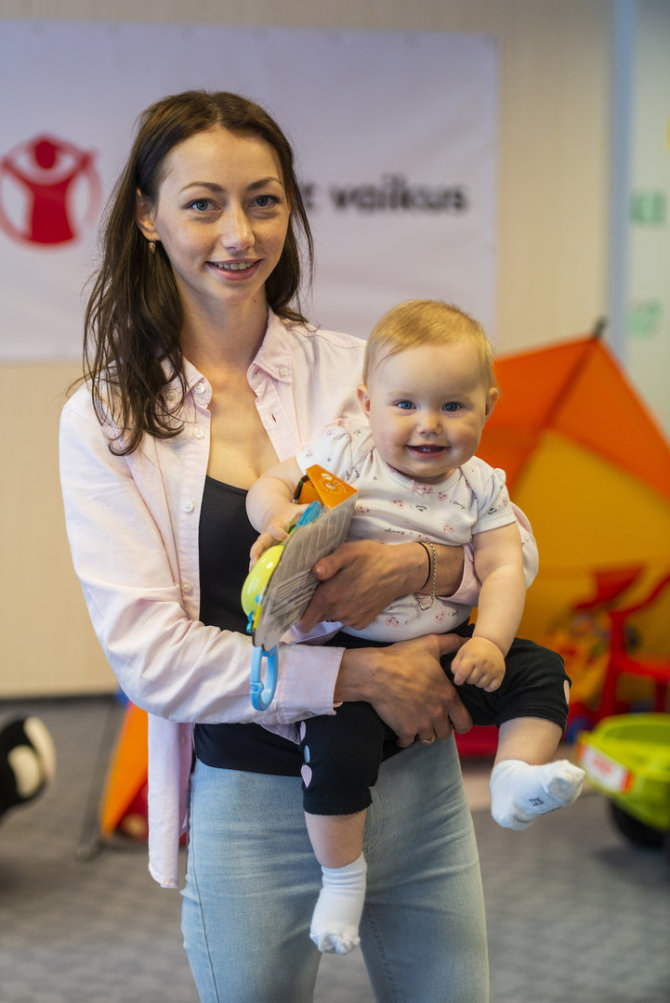 Photo by Dalius Pacevičius / Julia with her daughter
It's scary for her that eight years ago, when military operations began in eastern Ukraine, people in uniforms were uncomfortable, they were in danger, and now it's just that it's scary that people in military uniforms are getting used to it. "
Since 2008 The international organization Save the Children helps children and their families living in Eastern Ukraine. A full member of this network, the Lithuanian NGO Save the Children takes care of Ukrainian children coming to Lithuania – providing assistance with items to be in children's day care centers and in Vilnius.
Ukrainian children already established in Lithuania also visit the Save the Children day center, and together with Lithuanian children from successful families in difficulty they have to eat every day while participating in the summer camp.
Help the children call for an end to aid to the people of Ukraine. To help take care of Ukrainian children in Lithuania, you can call the short telephone number 1486 and provide a one-time support of 3 euros. More support options and details on how to do this are posted gelbekitvaikus.lt.