Radical changes await us. After a long discussion, the states of the European Union, including Slovakia, agreed to introduce measures from 2035 to end the sale of new cars with internal combustion engines. The final form will still be debated by the Member States with the European Parliament.
The states of the European Union have agreed on key proposals to contribute to meeting the climate goals of the European bloc before 2030. After more than fifteen hours of negotiations, environment ministers supported the reform of the emissions market or a standard that makes it virtually impossible to sell new cars with internal combustion engines from 2035. They also agreed on the creation of a fund to compensate people for charging for emissions from the heating of buildings or transport, which is to be 59 pairs of euros for the period from 2027 to 2032.
Slovak exception
Despite the efforts of several countries, including Italy and Slovakia, to postpone the practical ban on the sale of cars with internal combustion engines, ministers agreed on a significant charge for greenhouse gas emissions from new cars from 2035. "The sale of cars with internal combustion engines will not end in 2035, the cars can be resold if they have clean fuel," described the Czech Minister of the Environment Anna Hubáčková after negotiating an agreed compromise on the basis of a German proposal.
Moreover, the deadline – 2035 – may not be definitive, as the United States has agreed that the European Commission will assess in 2026 whether it is in the EU's power to actually achieve this goal or, for example, to postpone it. Slovakia was represented at the meeting by the State Secretary of the Ministry of the Environment Michal Kiča. "With the new climate policies, measures will be introduced to mitigate the social impact of these measures. The Social Climate Fund will ensure the continuation of financing for the wave of home renovations, "Kiča stated.
According to him, Slovakia enforced an exception in the case of a ban on cars with internal combustion engines. "In practice, this would mean that after 2035, new vehicles could also be registered that also run on carbon-neutral fuels, such as biofuels and other synthetic fuels," Kiča added.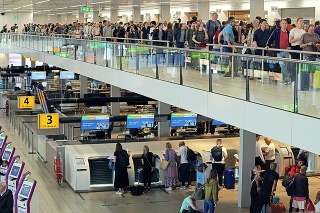 Kia is getting ready
Nový Čas also addressed Slovak carmakers how their latest bans will be affected. Kia replied that their strategy is to become the best leader in sustainable mobility and move towards an electric future. "We plan to electrify our European offer by 2035, while production at the Kia Slovakia plant is constantly preparing customers. Currently, the total electrified car models produced in our plant account for more than a quarter of our production, " said spokesman Tomáš Potoček.