On Monday, the European Commission (EC) approved Slovakia's request for a first payment of almost 400 million euros from the Reconstruction and Resilience Fund. However, Slovakia still has a lot of work to do, said EC vice-president Maroš Šefčovič for TASR.
photo: SITA / AP, Geert Vanden Wijngaert

Vice-President of the European Commission Maroš Šefčovič.

According to him, in the coming years, Slovakia faces a strategic task to fundamentally modernize its economy and build it on new foundations. "The payment that the EC is proposing to release today is an excellent step forward. High commitment and proper use of funds must be a society-wide priority, because the deadline for drawing money for the recovery plan is around the corner, in 2026, "the European Commissioner pointed out.
He reminded that the possibility of drawing on these resources is all the more pressing because Europe is still remembered from the coronavirus pandemic and at the same time remains the impact of the Russian invasion on Ukraine. "The transition to a green economy today also has a security dimension and we must need it," Šefčovič emphasized.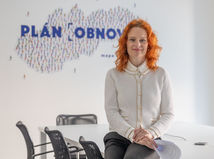 Read more Head of Recovery Plan: The most difficult reform was the court map, we deployed crisis management at Lengvarsky
In the context of the EU executive, according to him, 12.5 percent of the total funds can be transferred from the next generation EU plan (NGEU), in the case of Slovakia about 1.5 billion euros, based on dependence on Russian fossil fuels.