He is a true Finn in appearance and soul. However, he also speaks solid Czechoslovakia. He spent almost nine years in Bratislava, Vsetín, Znojmo or Brno. Sasu Hovi (39) enjoys the hockey championship at home in Tampere as a scout and a big fan.
"But if the Slovaks win today, the world will not collapse. Better than if the Swedes defeated us, "laughs the former goalkeeper support of Slovan Bratislava.
The favorite is clear. What is the chance that Slovakia will succeed?
Everything can happen. The quarterfinals are about one match and the Slovaks played really well last time. I don't think it's going to be easy, your players have shown that they can be dangerous. We are the favorite, but it can easily be a balanced match. I even see it that way.
Could Finn raise concerns about Finn's 7: 1 win over Denmark?
The Danes played a great match against Canada, when the Slovaks gave them seven, they had to play great. Each team comes to the tournament in some form and gradually graduates. I have a feeling that the Slovaks have improved more significantly than the Finns in the last two weeks.
And do Finns have anything to improve at all? After all, they were unbeatable in defense in the group…
of course. Well, he played an excellent match against the Czechs, I think it was also according to the coach's ideas. I expect it to be similar against the Slovak. Of course, in terms of quality, it is primarily on our side, but if we are not careful, we do not have to do well. Your players know how to torment the strong.
Goalkeeper Juho Olkinuora is looking for success in the championship – about 99 percent. Will the Finns rely on him on Thursday?
For defense as a whole. Our mentality is not only to play forward, but above all backward. In terms of defense, the Finns have the best team at the World Cup. Olkinuora has a fantastic form, it is very difficult to score a goal. Well, if we want to advance, we have to shoot some.
You used to be one big Kingdom of Sweden, how is it possible that the Finns play such defensive and the Swedes play bold and offensive hockey?
This is a difficult question, it is probably in our mentality. It's always been that way, even though I started with pros. The coaches reiterated that you can do defense before the attack. The defense comes first. Every player has always had to defend. It didn't matter if anyone was a star, the defense was a duty. It is at least twenty to thirty years.
Should the Finns underestimate the opponent?
I do not think so. Finally, the Slovaks raised a warning finger against the Danes, the Finns certainly know about it. Nothing underestimated. Mentally, they will definitely be ready. For an excellent opponent and hockey. What may be in favor of Slovakia is enormous pressure.
We play at home in Tampere, in our hockey cradle, everyone here is waiting for a fight for medals. However, if one of the Slovaks scores a quick goal, or two, then the Finns can get nervous. That would be a lot of stress. The opening goal will be very important.
Read more PODCAST: Losing with Finland? That is history, today is a new day
How do Slovaks affect you so far?
They came with young players, every match means a lot to them. They are improving day by day, which is why I think they will do their best in the quarterfinals at the championship.
There is a lot of talk about Juraj Slafkovsky, do you already see him as a leader?
I've been watching him for a few years, I know him very well. He made great progress, at the Olympics he was one of the best hockey players in the tournament. He is a great talent, he learns something new every day. It's better than at the beginning of the season, even though we already knew what he could do. In Finland, we are not pushing young players, we are in no hurry, but in the end it ended up being a valid player in TPS Turku.
How many rotations did you need before you realized what talent it is?
Not much. His skills quickly hit his eyes, read his hockey thinking takes a little longer. Maybe a few matches. Juraj is robust, especially when I compare him to his peers. In this respect, he is already ready for senior hockey.
Even in the NHL?
It's still early, he's a great talent with a future in the NHL, but he has nowhere to rush.
Will the match against Finland be exceptional for him?
Yes, something has already happened here. He wants his size. But just participating in the World Cup quarter-finals is very motivating.
Did you follow anyone else in Helsinki?
Everyone knows that the most interesting are Slafkovský and the Germans, they are really – for their age – exceptional players. However, we are preparing for the draft, it was not just about the two of them.
A few days ago, Samuel Buček signed a contract with Seattle, for which he works. Do you have your fingers in it?
I can't comment, this is our general manager Ron Francis. However, I was in Slovakia, watching mainly young players. I will recommend someone here and there. But I was also looking at Sam. (laughter)
If the Slovaks happen to advance, will you be the least disappointed Finn, as you have a nice relationship with Slovakia?
There will be something to it, it's a cool duel for me. If the Slovaks win, the world will not collapse – I will be the least unfortunate Finn in the country. (smile) It's much better than the Swedes should beat us, that's perhaps the worst.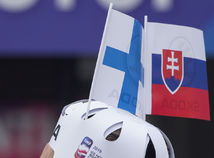 Read more The Slovaks have not (yet) done anything extra. How about spoiling a Finnish party?
Who will play in the finals on Sunday?
The match Finland – Czech Republic could be interesting. It's my tip.
Can we look forward to a good hockey atmosphere in Tampere?
You write that, unlike Helsinki, it lives here. There will be noise before the match, the Finnish flag itself in the air. The atmosphere will be great, I can promise you that.