Progressive Slovakia ceases to continue the government, which is de facto still led by Igor Matovič (OĽaNO). The chairman of the movement, Michal Šimečka, announced at today's press conference.
photo: SITA / AP, Paul Neubauer

Michal Šimečka, Vice-Chairman of the Progressive Slovakia Movement

He thus responded to the better approval of pro-labor measures from Matovič's workshop, which is to cost Slovakia more than a billion euros a year yesterday.
"It simply came to our notice then. The government led by Igor Matovic can no longer automatically count on our support and our voice if it remains on the table. On the contrary, we will focus on showing voters that politics may be different and that they may not have to choose between the chaos and upheaval we are about to see and corrupt extremists from the Smer camp and the fascists, "said Šimečka.
Lucia Plaváková, vice-president of PS Matovič, described the package as an unintended plan of one person who ignores the professional consensus.
"It is subverting public finances and owing our children in a way that even Robert Fico did not allow. It rapes the legislative process and robs local governments of more than € 600 million a year. He ignores hundreds of thousands of people in need and, conversely, pours money into rich people like Boris Kollár, Igor Matovič or Jaroslav Haščák, "she said.
The PS movement is also bothered by the fact that the proposal in parliament was passed with the "votes of the fascists", against which the unclassified member of the National Council of the Slovak Republic (NR SR) Tomáš Valášek also objected. Matovič openly said in the plenary yesterday that he was "proud" that members of the ĽSNS and Tarab had joined them. For me, it is crossing the last line, "he said.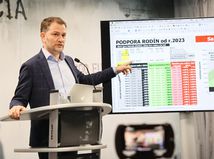 Read more Parliament approved Matovic's billion-dollar package. See who gets the most and the least (+ conversions)