It changes our understanding of the geographical distribution of the denisova person, says Professor Eske Willerslev.

For a long time it has seemed that the newly discovered human species the denisova only lived in Siberia and the Himalayas.
But that was not the case.
For in a new study published in the scientific journal Nature communication researchers show that a grinder that was found in a cave in northern Laos in 2018, most likely originated from a denisova girl.
This means that the denisova man had a rare ability to adapt to different environments. Something one thought was a trait that just modern humans had.
A denisova is one of the ancestors of man in the genus Homo, of which we know very little.
Be able to adapt to extreme environments
– Before our discovery, we did not know that denisovas also lived in Southeast Asia. We had always thought that they originated from China, and just moved to Siberia – and thus lived in the heights and cold regions, says Fabrice Demeter. He is a paleoanthropologist and researcher at the University of Copenhagen.
He goes on to say that after finding the molar in Southeast Asia, they know that the denisova species is able to adapt to extreme environments.
– We tend to see the earlier human types as very primitive. And so far we have thought denisovas were cold tolerant, but then we find them moments in the tropics. So they have had the ability to adapt. They have definitely not been stupid, says Professor Eske Willerslev at Cambridge University and the University of Copenhagen.
About the denisova man
DNA analyzes have shown that the Denisova man is part of the genus Homo and closely related to the Neanderthals.
– One can say that it is an Asian version of the Neanderthals. Today's Aborigines, the Filipino Negro people, and the indigenous people of Melanesia share five percent of their DNA with the Denisova human. In comparison, a Dane has less than 0.001 percent of his DNA in common with the Denisova human and one percent with the Neanderthals, says Fabrice Demeter.
– This knowledge we can use, among other things, to understand why well-to-do people can be different from each other. Some of the people living in the Himalayas today, for example, are better at adapting to altitude conditions. Maybe it's because they have more DNA in common with the denisova human.
Know a little about how they lived
– As soon as it is about denisovas, it becomes exciting because we know so little about them, says researcher in prehistoric archeology, Trine Kellberg Nielsen, at Aarhus University.
She says that denisova research is like neanderthal research in the 20th century.
– We know it is a human species, but we do not know how they lived. We have found a few bones and teeth that are starting to show pictures of the spread, but we have no picture of the lifestyle. Each discovery provides new information. Now we are in Laos, where we previously did not find denisovas. It's very exciting.
Found grinder in 2018
Fabrice Demeter and his colleagues have been researching northern Laos for the past 20 years. But it was in early 2018 that they found an entire tooth among several tooth fragments from animals.
– We were looking for Homo erectus, so we were not prepared to find denisovas. At first glance, I knew it was from a human. And I knew it was old because it was here in the cave, says Fabrice Demeter.
Although the surface was rough, it was clear that the small tooth originated from a human. Demeter took the grinder back to Copenhagen, where he and colleagues started by analyzing it. A job that took three years.
– Based on the studies, we could conclude that it was a grinder from a denisova girl who lived about 164,000 to 130.00 years ago, says Demeter.
Belongs to a child
– Because the tooth had still not erupted and therefore not worn down, we could say with great certainty that the girl was about four to six years old.
Eske Willerslev has tried to carry out a DNA and protein analysis to compare the grinder with, for example, Neanderthals or the other previous finds of denisovas. However, it did not succeed.
– The protein is too broken down for us to say anything more than that it comes from Homo. Instead, they have compared the tooth with many other prehistoric teeth from different human types and thus come to the conclusion which it is most similar to, says Trine Kellberg Nielsen.
– We can not rule out that the molars originate from a Neanderthal, but Laos is far outside their known range. It is a security until we can carry out such a non-destructive DNA analysis. If DNA is preserved in the tooth.
Past traces of denisovas
There is still not much archaeologists know about the Denisova man.
The first traces appeared in 2010, when researchers found the remains of a finger bone that was about 40,000 years old in the Altai Mountains in Siberia. They were from a young woman from the past.
DNA analysis showed that she differed from both Neanderthals and Homo sapiens, but represented an unknown type of human.
And in 2019, a group of researchers revealed that a jawbone a Buddhist monk had found in the Baishiya Karst cave in the northern Himalayan mountains in 1980, originated from a denisova. It was at least 160,000 years old. The cave became the second place in the world where a denisova fossil has been found.
But why do denisovas in the Siberian cave have a particularly special variant, which makes the body in overcoming hypoxia, a state of oxygen deficiency that can occur at increasing altitudes?
It has long been a gone for the researchers.
The cave in Siberia is just 700 meters above sea level, so that is not good enough. But the finding of the jaw fossil gives the Denisovas' ability to adapt to the height quite good sense.
It has been found in a cave 3280 meters above sea level in the Tibetan Plateau.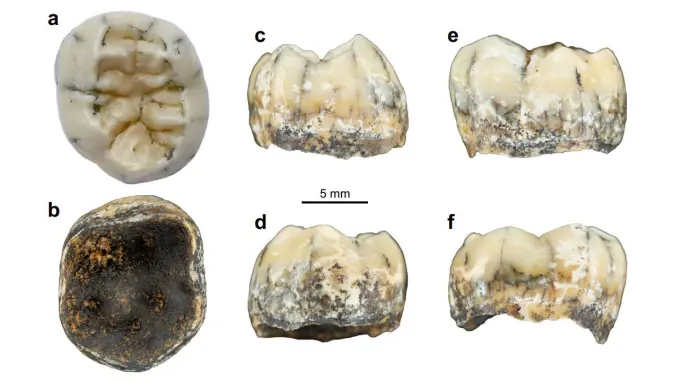 Conflict with myth: Incredibly adaptable
Prehistoric humans – such as Neanderthals and Denisovas – have not been considered as adaptable as modern humans.
But with these three findings, it turns out that denisovas were actually incredibly adaptable.
– We are starting to build up images, a basic foundation of knowledge that we can use when we need to move forward. For whom were they? We do not know yet, but the small pieces help to make the puzzle work, says Trine Kellberg Nielsen.
Reference:
Fabrice Demeter et al .: An inter-Pleistocene Denisovan molar from the Annamit chain in northern Laos. Nature communication2022. DOI: 10.1038 / s41467-022-29923-z
About the analysis method
Due to the high age of the sample and the very hot and humid area that comes from, the researchers have not tried to extract DNA so far.
The researchers have instead analyzed proteins, and can confirm that the tooth belongs to the genus Homo and that it is from a female individual.
The internal shape of the tooth was studied by microCT scan. It showed that the tooth looked like Neanderthals and denisovaers. Neanderthals, however, have never been found in the Far East. The researchers therefore believe that the tooth belongs to the sister group of Neanderthals – who in Asia are the Denisovas.
Different methods have been combined to date the place. The actual sediment that contained the tooth, the animal remains and the upper part that covers the sediment have been dated.
It is all these methods that together took three years.
© Videnskab.dk. Translated by Lars Nygaard for forskning.no. Read the original case on videnskab.dk here.