In the wonderful scenery of the resort at the foot of Nemira takes place, between May 23 and 25, the first edition of the literary event "Toposul literar-artistic, postmodern", organized by Revista de Cultură 13 Plus, in partnership with the Cultural Association "Renașterea" from Buhuși and the "George Bacovia" City Library from Buhuși.
The meeting will bring together well-known writers and poets, such as Ion Fercu – moderator, Mihai Botez Stîncaru, Viorel Savin, Ștefan Munteanu, Adrian Lungu, Alexandru Dumitru, Alexandru Ocolașu (Alex Oko), Petru Botezatu, Petre Isachi, Culiță Ioan-Ușure, Gheorghe Moșușure and Adrian Matei.
After managing to turn "Văratec Meetings" into a traditional event, the tireless literary critic and historian Petre Isachi is now initiating another debate, with an exciting theme: "Literary-artistic, postmodern topos", with the subtitle, , From the penumbra of the Creative Workshop of `13 Plus` Magazine".
Mihai Botez Stîncaru will open the series of exciting debates with the challenge "Postmodernist Thinking", while Petre Isachi and Ștefan Munteanu will point out unique aspects from the universe of Eminescu's creation, with the themes: "Western Canon – Eminescu's Canon" and . Eminescu's philosophy from `Epigonii` and` Luceafărul` ".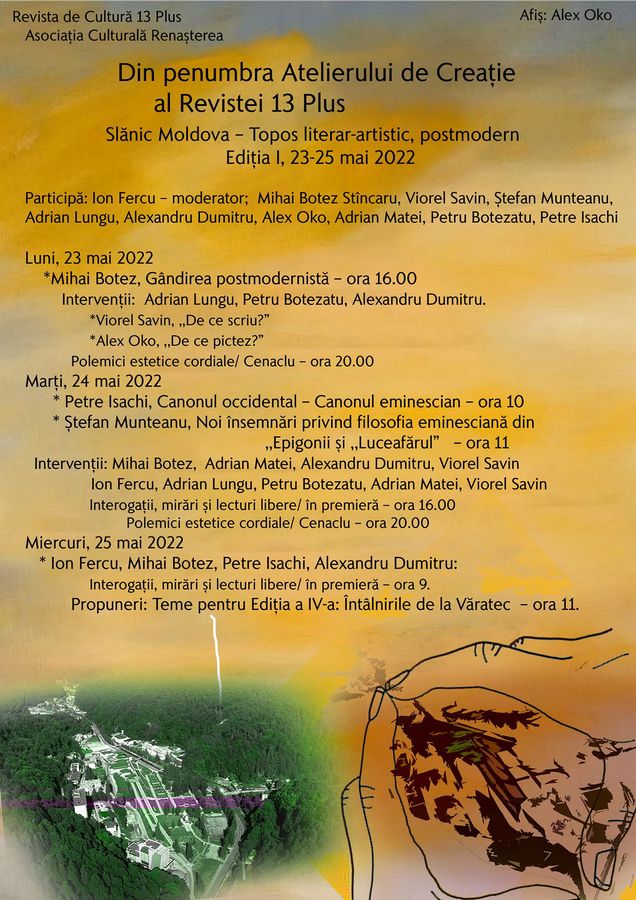 Interesting speeches will be given during the three days, including the two long-awaited confessions of Viorel Savin and Alex Oko, the first, meditating on the question "Why do I write?", The other, trying to answer the question "Why do I paint? ? "
The event in Slănic Moldova, financed from the participants' resources, will undoubtedly have other landmarks of great interest, namely premiere readings of his own creation or that of other writers and poets, as well as more "heated" discussions under the title "Cordial aesthetic controversies. ".
As most of the participants are also present at the "Meetings from Văratec", in Slănic-Moldova the project for the 4th edition, in the autumn, of these meetings will be sketched.
Romulus-Dan BUSNEA
---
---
| | |
| --- | --- |
| | Subscribe to the channel Telegram Awakening to receive uncensored news of "community standards" |
advertisement
---