Status: 05/22/2022 06:00 a.m
On Saturday evening, Tchaikovsky's opera "Eugene Onegin" took place at the Hanover State Opera premiere celebrated. The opera shows that it always takes the right time for two people to become a couple.
The living room of a country estate, far from civilization: high bookshelves, oil paintings of snow-covered rivers hung close together, in the middle an overhanging table. The whole village is bustling about with hustle and bustle watching the daughters of the house, Olga and Tatjana.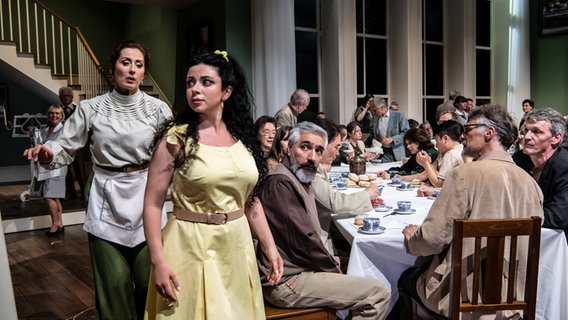 At the declarations of love at the table, Olga does not seem to be entirely at ease.
Director Barbora Horáková, who herself grew up in a three-family household in Prague, was inspired by the constant presence of family and friends she experienced as a child. It can be very embarrassing when Olga's Lenski suddenly blurts out her great feelings unfiltered in front of everyone. "That's why the choir is on stage – as someone who actually always observes and also comments on the feelings of the others," explains Barbora Horáková. "This fast-paced village community where everyone makes up their own minds and everyone knows about each other."
Eugene Onegin: An ambivalent character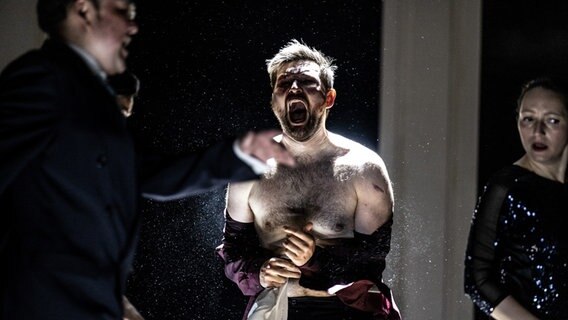 Peter Tchaikovsky wrote the opera Eugene Onegin in 1878. It is based on the verse novel of the same name by Alexander Pushkin.
Lenski and Olga are engaged. Olga's sister Tatyana falls madly in love with Lensky's friend Onegin. Overwhelmed by feelings for the dandy from the city, she reveals herself to him overnight in a letter. But he rejects her nicely – out of emotional coldness, boredom with life.
James Newby, who most recently played leading roles at the Hanover State Opera in English-language productions such as Greek and the musical Sweeney Todd, sings Eugen Onegin. For the written baritone it is an ambivalent figure. "It would be easy to play him as an arrogant person who isn't particularly nice. But I think it goes deeper," says the leading actor. "He's misbehaving, touching the mess, but he's not inherently a terrible person. It comes from feeling like an outsider."
Late insight: Tatjana blocks Eugen Onegin
Years later, when Eugene Onegin realizes the mistake and approaches Tatyana, she rejects him. She is now married, but still has feelings for him. But the time for the beginning of a great love has inevitably passed. It is his own feelings that Peter Tchaikovsky, as a homosexual man in the Tsarist Empire, was not allowed to show openly and which he can still allow – through the music.
"Through music you communicate something that you can perhaps no longer express with words. And if it also happens through the human voice as an instrument, something that hits you straight to the heart and can also be understood directly," explains Barbora Horáková. "Tchaikovsky played incredibly with colors and and each character has his own world of sounds that you can really feel, where you can really empathize." Director Barbora Horáková finds a balance in her production: between the great inwardness of hurt feelings and the lively floating on the surface.
Keywords for this article
Opera