Recent years have brought unprecedented excitement to the Hungarian real estate market. In terms of prices, for example, we are among the first in Europe.
The specialist for downtown real estate, Central Home, has now compiled a list of the top streets and locations of Budapest's broader city center. Of course, the summary also covered how prices are currently developing in these streets, as these areas are always receiving special attention and, as demand is always strong, higher-than-average prices per square meter are typical.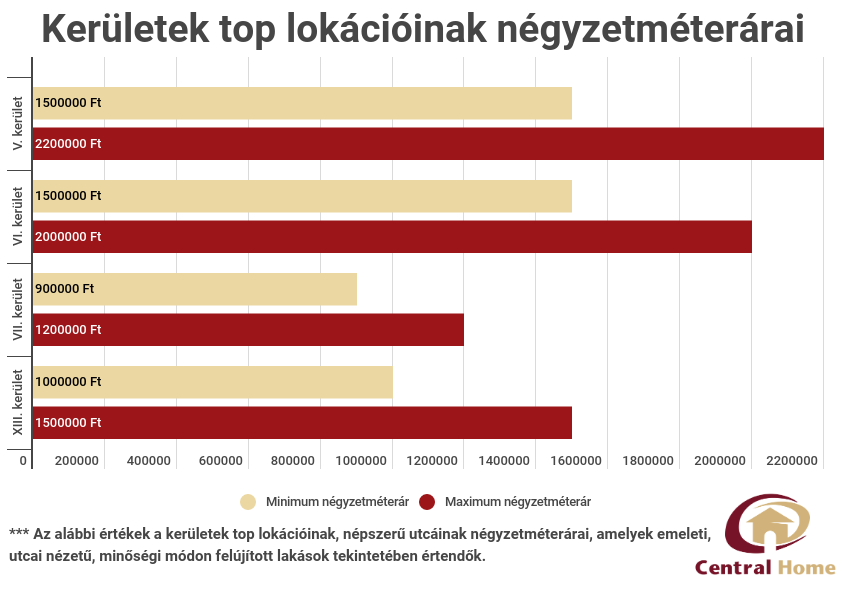 District V.
The heart of the city, no question. There are regular favorites, traditional Andrássy út, Rakpart, Szabadság tér and the streets around the Parliament, such as Falk Miksa or Hold utca. In the last few years, the demand was higher than the supply in 3-4 years: for example, in Októ Street 6, in Zrínyi Street and around the Basilica. It's a little quieter now. On the other hand, there is a small street, Apáczai C utca, where the group has grown the most.
There are districts where we sense that if we advertise there and realistically determine, the demand is much higher, "says Ben-Ezra Orran, an expert at Central Home. – "These are Andrássy út, Falk Miksa utca, Bem and Széchenyi quays, and the surroundings of Váci utca, such as Haris köz or Szervita tér. In the case of street-renovated flats, the prices per square meter can be as high as 1.5 to 2.2 million forints here.
V. and VII. district
Király Street and its surroundings, which separate the two districts, have been the most sought-after location in recent years due to the proximity of AirBnB and the party district. They were specifically preferred targets for investors. The epidemic can be felt here to have the greatest impact on demand, as it has fallen drastically, and although these are still well-marketed locations, they are nowhere near as prominent as they used to be.
A VI. Andrássy út is still the upper category in the district, where the price of the renovated flats upstairs, on the street, is still HUF 1.5 million, "continues Ben-Ezra Orran. – "There are still preferred streets in the district where AirBnB used to stand out, these include Székely Mihály utca, Zichy Jenő utca and Liszt Ferenc tér. The real price here is HUF 1-1.2 million for flats with similar parameters.
According to the data of Central Home, the VII. In terms of investment, the area of ​​Király and Dob utca and the area of ​​Klauzál tér will continue to be a priority area, where prices may vary between HUF 900,000 and 1.2 million per square meter in the case of renovated, upstairs flats.