Real A-list performers in Budapest Park! The charity concert will help the civilian victims of the war. Barnabas Kelemen and his friends will give a concert at the Academy of Music for people with autism. Sándor Csányi's one-person comedy will be on the stage of MOMkult, His Mother's Eye with the Béla Pintér Associate in the Újpest Event Space, entitled How to Misunderstand Women. Is there anything more important than love, Gábor Gundel Takács talks about on the podium of the Lutheran Museum.
Budapest Park Relief Concert – Random Trip Allstars
We decided that our season was -1. On the 20th of April, we will organize an aid concert, the full ticket proceeds of which will be offered to organizations that are exemplary in crisis situations. We called in our Random Tripes friends who brought together a real A-list team for a good cause – invites the organizer to Budapest Park.
Let's help the civilian victims of the war!
With the tickets exchanged for the relief concert, you fully support the work of the Budapest Bike Mafia, the Hungarian Red Cross, Migration Aid and UNICEF. Depending on the amount of donation you can help, you will also find three types of battlefield ticket prices on our website. These are all for the dance floor again. If you want to help, but you can't attend the concert, you can do it with a HUF 999 grant in the "donation" section of our website – informs everyone at organizer Budapest Park.
Thank you for reading 300,000 on busy days! With this, BudaPestkörnyéke.hu became one of the Top 15 news portals in Hungary – details here. Our new service is the daily program recommendation that by clicking here they could watch. There is always something in and around Budapest, you can find all the important information with us.
As a support ticket if you can't be there
Sándor Csányi in MOMKult
How to misunderstand women? Sándor Csányi's one-man comedy at MOMkult offers parade entertainment on Wednesday night.
How to misunderstand women?
Mother's light in Újpest
Béla Pintér and Company: Mother's eye light will be staged in the Újpest Event Space. Brigitta Barna (Giordano Brunella), the host of Star TV, is a special host during the day, doing an interview, and at home, her beloved husband and daughter are waiting. His enviable success at one point, however, takes a tragic turn.
Charity concert for people with autism at the Academy of Music
Barnabas Clement and his friends a FAB Ensemble Ferences a charity evening for people with autism is being held at the Academy of Music.
Is it more important than love? – Podium discussion with Gábor Gácsel Takács
Podium discussion with Gundel Takács Gábor about faith, journalism, and things in life at the Lutheran National Museum. Interviewer: Kornélia Fűéné Menczer, head of the Huszár Gál Bookstore.
Organizer: Huszár Gál Bookstore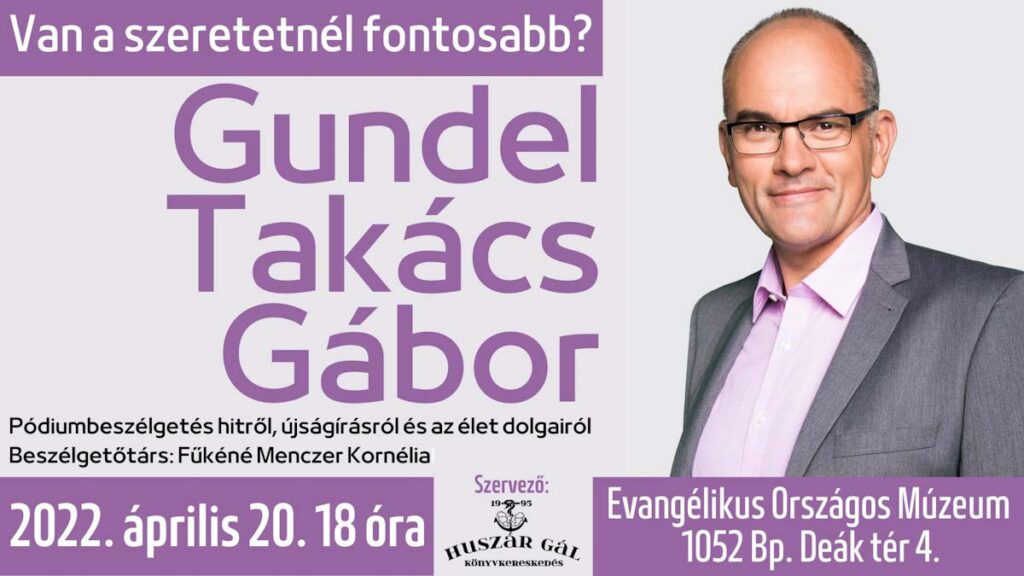 Free program guide
According to the accredited Hungarian advertising market survey (Gemius), the BudaPestkörnyéke.hu news portal is already read by 220,000 people during busy periods. So the program recommendations are really seen by a lot of people. We have good news! If you have a program offer, organize an event, your restaurant will come up with a new menu, send us the info and we will publish it for free so that many people really know about it. Important and useful information for program organizers here!
Featured image: Facebook / budapestpark