The first evacuations of the Saints-Innocents cemetery
At the end of the 18th century, Paris was faced with serious sanitation problems linked to the city's overcrowded cemeteries. The decision is made to transfer the bodies elsewhere. The Parisian authorities chose an easily accessible site, then located outside the capital: the old quarries of Tombe-Issoire, under the plain of Montrouge.
The first evacuations took place in 1785. They concerned the tombs of the most important cemetery in Paris at the time, the Saints-Innocents, located in the Halles district of Paris, on the site of the current Place Joachim-du -Bellay in the center of which is the current Fountain of the Innocents. The site of the catacombs is subsequently attributed "Ossuaire municipal de Paris" and will be called "catacombs", in reference to the catacombs of Rome.
⋙ 11 districts of Paris to re(discover) for a weekend
The process of transfers in the catacombs
From the last months of 1785, the transfer of bones from the cemetery of the Innocents began. The bones are later removed from the ground, then cleaned and transported in closed cars. A scrupulous religious rite is observed: funeral chariots covered with black catafalques go at dusk to the service shaft of the Tombe-Issoire quarries in order to dump their load there. They are associated with choirs of monks carrying the lantern of the dead, accompanied by torchbearers and followed by priests singing the office of the dead.
At the end of the route, the bones are rushed into a stone extraction shaft, at the level of the current number 21 of avenue René-Coty. At the bottom of the defecation pit, men collected the bones, and loaded them on wheelbarrows or in small wooden carts destined for the sector reserved for them in the underground rooms or galleries. Each location is indicated by an engraved plaque indicating the provenance and the date of the transfer.
It is estimated that more than six million deposits have been moved over a century in a series of ossuaries located today in the 14th arrondissement of Paris.
The work of transfer continues for many years
This work lasts fifteen months and the operation is a success. The administration therefore chose to generalize the measure: following the example of the Saints-Innocents, the other Parisian cemeteries, in particular those adjoining churches, were gradually emptied.
The transfer operations continued until 1814. During the development of the fruit and vegetable market under the First Empire at the site of the Innocents, other bones were unearthed during the foundation work and followed the same way. Transfers then resumed from 1842 to 1860, years lasting seventeen cemeteries, one hundred and forty-five monasteries, convents and religious communities and one hundred and sixty places of worship surrounded by their own cemetery were emptied.
Finally, several years later, the great works of Haussmann provide forgotten bones, in turn transported to the catacombs. Nowadays, part of the site can be visited.
Read also:
Monuments: the Pantheon as you've never seen it before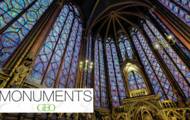 Monuments: the Sainte-Chapelle, a "glass cage" in the heart of Paris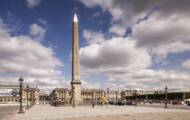 Obelisk of Concorde: a look back at the history of the oldest monument in Paris