A Lufthansa plane en route from Frankfurt to Costa Rica had to turn across the Atlantic. The destination airport in San José was closed because a cargo plane broke up there.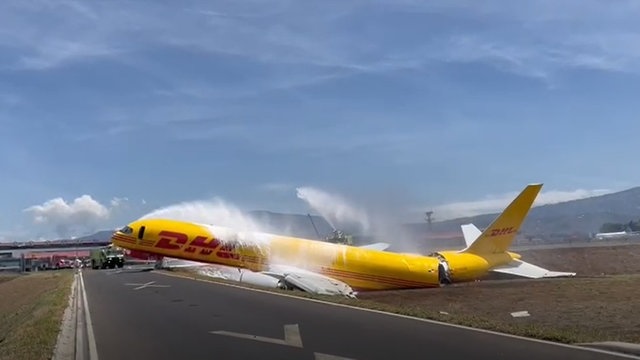 Turning back over the sea off the southern tip of Greenland: Flight LH518 with 267 passengers on board had to fly back to Frankfurt on Thursday. According to a Lufthansa spokesman, the U-turn of the Airbus A340-313 plane was an indirect result of an accident that had previously occurred at the destination airport in San José, Costa Rica.
Cargo plane broken in emergency landing
A cargo plane broke in two after an emergency landing. The machine of the parcel service DHL had hydraulic problems, as the fire brigade announced. Both people on board, the pilot and the co-pilot, were unharmed.
Videos show how the Boeing 757 aircraft first drove on the runway after landing, then made a right turn, kicked up dust and came to a stop in a depression next to the runway with a fracture in the near tail. The fire brigade used foam to prevent a fire.
Four and a half hours in the air
The entire airport in San José was closed to the Lufthansa spokesman for several hours, so that the passenger plane, which had taken off from Frankfurt in the afternoon, had to turn back. After four and a half hours in the air, flight LH518 landed again in the evening.
The airport closure in Costa Rica has now been lifted, so the spokesman assumed that the daily flight to San Jose can take off and land on schedule on Friday afternoon.