The majority of war refugees coming to Slovakia are Ukrainians, of whom 90 percent. The police on the social network inform about it, stating that from the outbreak of the war in Ukraine (February 24) to Tuesday (March 8), 4,253 passengers came to our territory from the states of the European Union.
The number of third-country nationals was 10,323, most of them from the Kingdom of Morocco. During this period, a total of 152,801 people came to the territory of Slovakia across the eastern border.
"Slovakia is used as a safe corridor by nationals of several countries who get home through our territory. to finish that not only domestic Ukrainians were stranded in Ukraine, but also foreigners who either lived, worked, were on holiday or studied there for a long or short time, " press police. He also recalls that it is not possible to fly over the air due to confined airspace, so they must use the nearest border crossings to travel to their home country.
The police have ensured a controlled crossing of the Slovak-Ukrainian border since the outbreak of the conflict. "The Ministry of the Interior (MV) of the Slovak Republic and the police are strongly opposed to the allegations that we are releasing people from Asia and Africa completely out of control. Incoming aliens are duly registered at border crossings. If they do not have any documents with them, they are stored in databases and, in addition to other actions, their fingerprints are taken away. " police report. At the same time, the Ministry of the Interior ensures that the police comply with European and national legislation and that safety standards are maintained.
Since the outbreak of the conflict until Tuesday, 138,223 Ukrainians have come to Slovakia across the eastern border. As far as third-country nationals are concerned, most of them came from the Kingdom of Morocco (2394), the Republic of India (1397) and the Federative Republic of Nigeria (1090).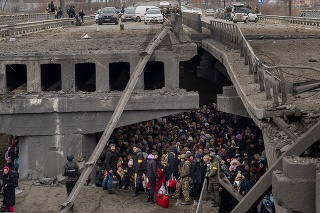 The Ambassador of the Kingdom of Morocco to Vienna, Azzedine Farhan, also thanked the Slovak Ambassador to Vienna for their assistance in providing transportation and accommodation. "On behalf of the students, I would like to thank the Slovak authorities for their continuous action, activity and mobilization day and night and for the fact that they can use the accommodation of students in hotels, as well as for their transport to the Kingdom of Morocco," he said.
According to the Ministry of the Interior, the competent authorities of the Slovak Republic welcome the interest in the countries of origin in the return of their own citizens. For example, they cooperated with India, Libya, Morocco and Egypt in repatriations. "So far, 13 repatriation flights have taken place with a total number of more than 2,000 passengers," the ministry added, noting that the costs of these flights were not borne by the Slovak Republic.