In one day he covered 1,660 kilometers on the route Prague-Przemysl-Prague. On the border between Poland and Ukraine, Andrej Ruščák arrived for the family of his distant relatives. He wrote the transition in an interview for the iROZHLAS.cz server as a big mess: "I thought that anything could happen there. Either at least one of them will pass, or everyone will try to make it by car. Which eventually succeeded and as one of the last they got to the other side completely. "


Conversation
Prague / Przemyśl / London


Share on Facebook


Share on LinkedIn


Print


Copy url address





Abbreviated address




Close


You recently returned from the Polish-Ukrainian border. Can you tell us what you did there? Why did you go to Przemyśl?
I went there for one family. Very distant relatives from my wife, who is partly from a Czech-Polish Volhynian family. We met them once in Kiev when they hosted us at home for a few days in 2019.
When we found out what was happening and a week ago it seemed that some direct conflict was approaching – specifically when it was speculated that the 16th would turn Russia into Ukraine, so we contacted them and tried to warn. They then left Kiev, where they live, and went to Prague, which is already a city near the border with Poland. Eventually, when a major offensive was launched (morning of February 24, ed. note), had to spend the night in the shelter, because Lutsk was also the target of Russian missiles. When we found out about it in the Czech Republic on Thursday morning, the first thing we did was call them, that we had a place for them in Prague, and if they wanted, let them go to the border, whatever.
In a televised speech, Putin announced a 'special military operation' in eastern Ukraine
Our article


I suspected that there might be some problems, so I drove to the Polish-Ukrainian border to be sure, where we agreed to meet. I was afraid that exactly what would happen later might happen – the decree announced the full mobilization and ban on all men from 18 to 60 years of age. (It took place on Thursday after 11 pm, editor's note). The father from that family had been worried all day if they hadn't introduced it. There were also a few hoaxes on Twitter that it started to apply during the day on Thursday. So we kept communicating with each other and trying to find out if it was still open, if they could get through, as the situation was.
There was a crazy front from the Ukrainian side. Which was difficult because the Russians attacked the Ukrainian information systems. This meant that the check-in took a long time. They arrived there at 9.00 a.m. and crossed the line sometime around 6:45 p.m. There were adults with two children. And the ban on men leaving Ukraine followed a few hours later, so they managed to do so at the last minute.
However, there is a possibility that Ukrainian President Volodymyr Zelensky would call to the country all Ukrainians who are not at present. The father would have to return from that "your" family. How would they react to that? Are they not afraid of this possibility, which they now see in the air and many are already speculating about it?
When it hangs, it hangs. It does not matter. When such an order comes, it will then deal with it. It's not worth it for them to deal with it until it happens. The key at the moment is that their two girls don't have to sleep in the shelter at night and don't have to listen to rockets exploding overhead. This is the most important thing at the moment, because that is exactly the situation when they left.
Transition variants
Were you prepared for the possibility that the whole family might not be able to cross the border?
I thought anything could happen there. Either at least one of them will pass – and in that case they would need a car on the Polish side, or everyone will try to make it by car. Which eventually succeeded and as one of the last they got to the other side complete.
Zelenskyj announced a general mobilization, men aged 18 to 60 are not allowed to leave the country
Our article


So you were waiting on the Polish side with a car so that you could possibly take away at least some of them?
Yes. In the meantime, I tried to find out on the spot what could be done on the spot if they didn't let them go. I talked to the Polish border guards and tried to agree with them on whether, given that the family would subsequently apply for asylum in the Czech Republic, it would be possible for them to be checked. I must say that the border guards were very willing. Poles certainly don't care what happens in Ukraine. They are already building refugee camps, I am trying to prepare so that they can help refugees from Ukraine under fire.
How long did it take you to get back? Did you have the opportunity to discuss how they perceive the situation?
We couldn't have fun because they drove their car in the end and I was mine too. At the same time, they have not yet resolved non-Ukrainian SIM cards. In addition, it complicated their situation in that they had to take out European car insurance before crossing the border – a problem again because the systems were failing as a result of Russian attacks. All possible institutions, not only banks, but insurance companies and others, are being attacked by Russian hackers, so before they even received these documents, it was chaos. We didn't have much time to talk about what was going on there before we left. We were in contact, we could call while they were in Ukraine and had a Ukrainian signal and the Internet. We coordinated what could be done if something didn't happen.
So they traveled by car? I thought your idea was to pick them up with your own car…
We couldn't know what it would look like there. The threat that mobilization would be activated hung there all along. They wanted to have a car available in the Czech Republic. When they leave Ukraine, so that they can at least move independently. So they tried to cross the border with their own car, but the chances of them succeeding were slim. So I was there in case they couldn't get the car to the other side, or because they might split up. That they wouldn't let their father leave.
Packing in Kiev
Do you know how the family moved from Kiev to Lutsk? Did they have time to pack everything they needed? And what did they possibly consider most important?
Of course, they took documents and diplomas, basic clothes, towels, cosmetics so that they could work somehow. But they didn't pack much, because when they left Kiev, they still had the impression that it wouldn't be such a big deal. In fact, they had high hopes that they were acting "cautiously" only with caution. The situation was deteriorating, but they still took it theoretically, they did not believe that the attack would eventually take place. He just wanted to make sure that if anything happened, they would be ready. When the attack began, there was not much to deal with.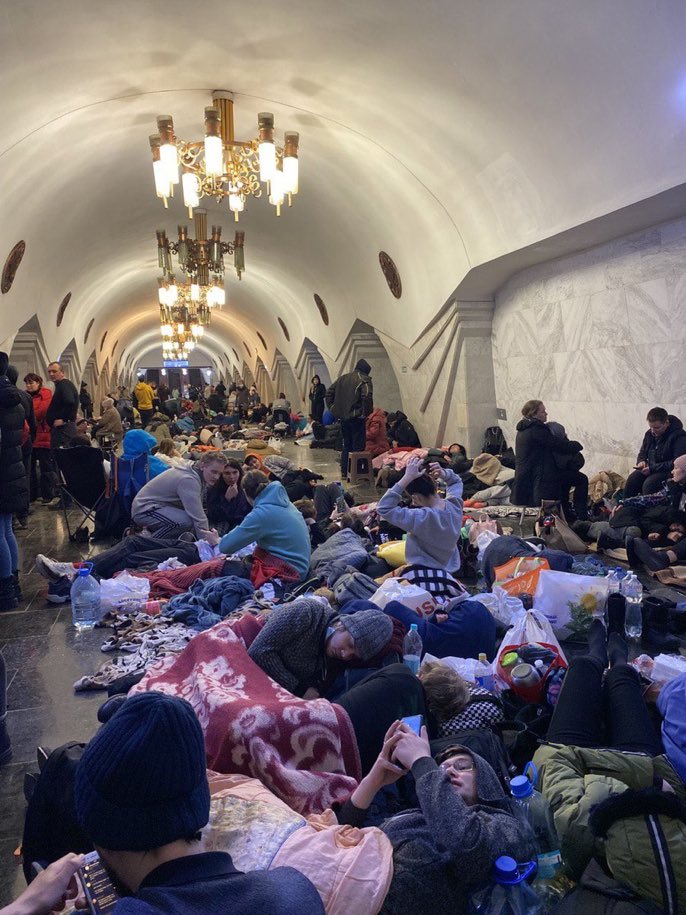 A lot of the people I spoke to in Ukraine thought that even if an offensive began, it would concern left-bank Ukraine, it would concern the Republic of Luhansk and Donetsk, around Crimea, but what is happening now? Nobody can imagine that. That a coordinated attack on the whole of Ukraine has begun in the way we can observe.
You mentioned that your parents also took diplomas. So I expect them to look for work in the Czech Republic? That it's a move for more than a few weeks?
You can't say that. They want to come back. You still work at home office, so they don't care if they work from Prague or Kiev. They hope to return in a few months. They hope it will pass sooner. That it would somehow manage, that the attack would repel or that it would not be possible to conquer Kiev. But of course caution is in order.
Returning to the border situation. How would you describe the situation there? Have you seen the columns we registered on social networks? Can you describe the atmosphere among the people who tried to get from Ukraine to Poland?
The columns were from the Ukrainian side, on the Polish side it was empty. But the chaos that existed on the Ukrainian side and the slow pace of letting people through the border caused the Polish side to be essentially depopulated. But I asked the Polish border guards about the situation – what it looks like and how it sees it in the future. So they are quite skeptical about the development. Their attitude was probably that they were there "in the morning." According to them, Ukraine will probably not be able to do it and "who knows what Putin will do next". They were not entirely optimistic.
So when you came to Przemyśl with the idea that you would take a family of four into the car and she could then leave with her car, did you not think that you could take someone else?
No one was there. This particular border crossing was not for pedestrians. So everyone who crossed the border had their car. The Polish side was empty, on the contrary, there was chaos on the Ukrainian side and a lot of people, cars. When we went to Prague, we overtook one Ukrainian car after another, fully loaded cars. It was fairly clear what was going on here.
The 'one go' trip
Did you come there and go back with them right away?
Exactly. I only went there "on a turn", in one go.
Calling orders? 'Our Ukrainians are now working on how to get families to the Czech Republic,' says the director of the employment agency
Our article


How long did it take you?
It wasn't that bad. (laughs) I left Prague at 8.30 on Thursday, I was there at 4 pm, we left back after 7 pm and we were in Prague at about 2.30 on Friday. I then proceeded to London, where I am now.
So you left your family living with you now and traveled to England yourself?
Exactly. He lives in our apartment. We are now in London for four days only, with a friend offering me housing for the family, so when we return and it's time to process it, we will help them in the Czech Republic. Of course, just in case he wanted to. Because I don't want to push the idea that they should settle here if they don't care. We will try our best to help.
Do you plan to get even more involved in helping Ukrainians?
I'm thinking about it. When I see what it looks like, I don't think it was my first and last trip. But now the situation is more complicated. By last night (on Thursday, editor's note) they have closed the boundaries for men, so hard to tell how it will move forward now. This can significantly change people's willingness to leave. The situation is terribly unstable.
Share on Facebook


Share on LinkedIn


Print


Copy url address





Abbreviated address




Close