Press release from 02/26/2022
The Eissport-Gemeinschaft Diez-Limburg (EGDL) lost the home game against the reigning Oberliga-Nord-Champion Hannover Scorpions with 2:6. Even if the guests kidnapped the three points from Diezer Heckenweg, the Rockets still sold very well.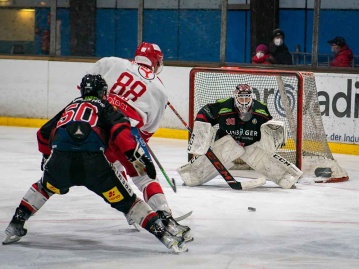 Diez-Limburg. It was bitter that there was a short phase of weakness in the second third, in which the Scorpions scored three goals within a minute. "That was a very good game from us," Hanover coach Didi Reiss. "You shouldn't underestimate Diez-Limburg, then you can lose here quickly. We played very concentrated, were compact on the ice and didn't allow much. I think the win was deserved."
He was, even if two of the three-thirds were pretty close, at least on the scoreboard. For example, there was the first third, in which the shooting ratio of 19:10 spoke clearly for the Scorpions. Ten shots on the master's goal, on the other hand, is not a worse value. Jan Nijenhuis scored the only goal in the eighth minute.
And there was also the last third, which ended 1:1 – and in which the EGDL offered the opponent a considerable stand-off. It's bitter that your own superiority game in this game didn't sting as usual. Instead, Michael Hammond, outnumbered, made it 6-1 for Hannover (53rd minute). After all, Paul König managed to score a goal after Noureddine Bettahar did a lot of preparatory work – the 2:6 was the last goal of the evening (58th minute).
If five booths are still missing, they all die in the second half – four of them for Hannover, three of them within a minute: Alexander Heinrich (26th minute), Julian Airich (26th minute) and Christoph Kabitzky (27th minute) have meanwhile strengthened to 4th place :0, that was the end of the party. With a nice individual performance, David Lademann made it 1:4 (35th minute), one minute later Hannover's Robin Just increased to 5:1 (36th minute).
"We wanted to annoy Hannover a bit," said Rockets coach Jan Pantkowski. "We did quite well in the first third. We didn't find any solutions in the power play today. And in the second third we unfortunately lost the thread at times. In the last third we were concentrated again, but congratulations to Hannover on the well-deserved victory. Our focus is now on Sunday's game in Erfurt."
Additive: Due to the Corona situation, the German Ice Hockey Federation has suspended relegation from the Oberliga Nord and Süd this season. The Rockets can no longer be relegated from the league, the play-downs – in which a relegation should be played out – are omitted without replacement.
Game details:

EG Diez-Limburg: Guryca (27th bush) – Dobryskin, Seifert, Valenti, Shevyrin, Guardian Houses, Weis – Drover, Loppatto, Krymskiy, Lademann, Slaton, Bettahar, König, Lehtonen, Richter, Wellhausen

Referee: Licau / Mylius

Spectator: 133

Crack: 0: 1 Jan Nijenhuis (8th), 0: 2 Alexander Heinrich (26th), 0: 3 Julian Airich (26th), 0: 4 Christoph Kabitzky (27th), 1: 4 David Lademann (35th), 1: 5 Robin Just (36′), 1: 6 Michael Hammond (53′, outnumbered), 2: 6 Paul König (58′, outnumbered)

Punish: Diez-Limburg 4, Hanover 10

The outlook:
Sunday, 4 p.m.: Erfurt vs. EGDL (PM)

---