Through the non-profit organization People in Need, the Prague City Hall will contribute ten million crowns to help Ukraine. It has 2,420 beds ready for potential refugees, buses of the transport company (DPP) are ready and an assistance center is used. A working group of representatives of all political parties in the council will be set up at the municipality to deal with the situation in Ukraine. The city will also begin work on ending partnership agreements with Moscow and St. Petersburg. about it today, city councilors. The Russian army launched an air and ground attack on Ukraine this morning.
Humanitarian aid to Ukraine
"At the moment, the capital seems to be making a contribution to the renowned People in Need organization, which has been providing humanitarian aid in Ukraine for a long time and is now preparing assistance in response to the situation." said the mayor, who submitted the proposal to the deputies. He added that Prague supports a united Ukraine and a free Kiev.
The deputies approved Ukraine's support unanimously. "I do not consider it just a symbolic gesture, even if it is important, but also as a commitment to seek forms of assistance to Ukraine to the citizens of Ukraine, both in Prague and to Ukrainians who are in danger." said the chairman of the opposition ODS deputies Zdeněk Zajíček.
We still hoped it wouldn't happen. Today, Russia has invaded the sovereign state in full force. But everything was headed for that. Analysts and political scientists will tell at noon that this is exactly what has happened so far. There are several reasons. In his …
The Czechia is preparing for the arrival of potential refugees
According to the mayor's deputy Petr Hlubuček (STAN), the refugees will first be placed in a detention facility for foreigners in Vyšní Lhota, from where they will then be transferred to the regions. "To date, we have prepared 2,420 beds in operations, hostels, boarding schools. We have agreed with DPP to make buses available. We are activating the Assistance Center for Assistance project in cooperation with the Fire and Rescue Service, " he said Hlubuček.
At the same time, a working group will be set up at the municipality to deal with the situation. "It's a response to the fact that the situation may develop dynamically," he said Boletus. The group will include representatives of all parties in the council. "There are a number of problems facing us," said the opposition representative Ondřej Prokop (YES). According to him, problems may arise in the case of Ukrainian recruitment in the Czech Republic in construction or health care, as there are many of them working in these fields.
Russia started a war in Ukraine this morning before four o'clock in the morning. In his speech, Putin announced the launch of a "special military operation," and immediately afterwards the Russian army began attacking targets throughout Ukraine. Early in the morning, politicians began to comment on the situation, …
Termination of partnership with Moscow and St. Petersburg
DPP will display Ukrainian and Kiev flags on its cars in support of its sister transport companies. The city will also examine the possibility of ending the partnership with Moscow and St. Petersburg. Partnership agreements have been suspended since 2014 in response to the annexation of Crimea to Russia. The cities have not carried out any joint projects in recent years. "It's not a move against ordinary Russians, but it's clear that cooperation won't make sense." said Mushroom.
Russia invaded Ukraine from its territory and Belarus
The Russian army launched an air and ground attack on Ukraine this morning. Russian President Vladimir Putin said in a televised speech that they had given permission for a special military operation in Ukraine's Donbas, after which witnesses from a number of cities across Ukraine began to report strong explosions or sounds that sounded like artillery fire. The Ukrainian border guard said that Russian forces had attacked the Ukrainian border from Russia, Belarus and the annexed Crimean peninsula. Moscow's actions condemned the Western people and promised harsh sanctions against Moscow.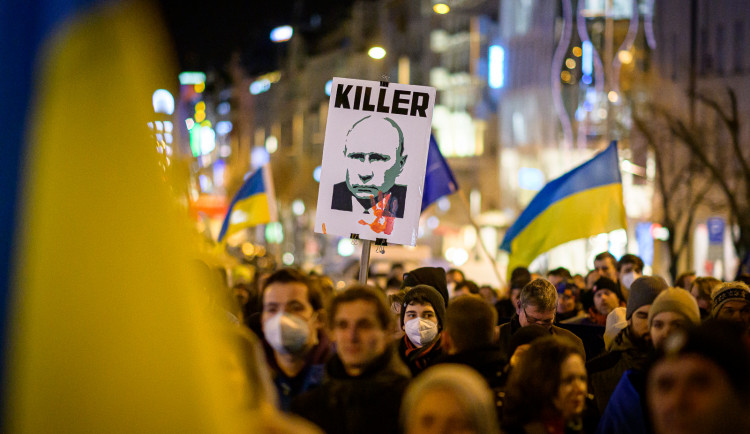 Non-profit organizations in the Czech Republic have announced collections to help people in Ukraine in connection with the armed conflict that unleashed the Putin regime on their territory. Those interested can contribute financially in the collections of proven organizations such as …