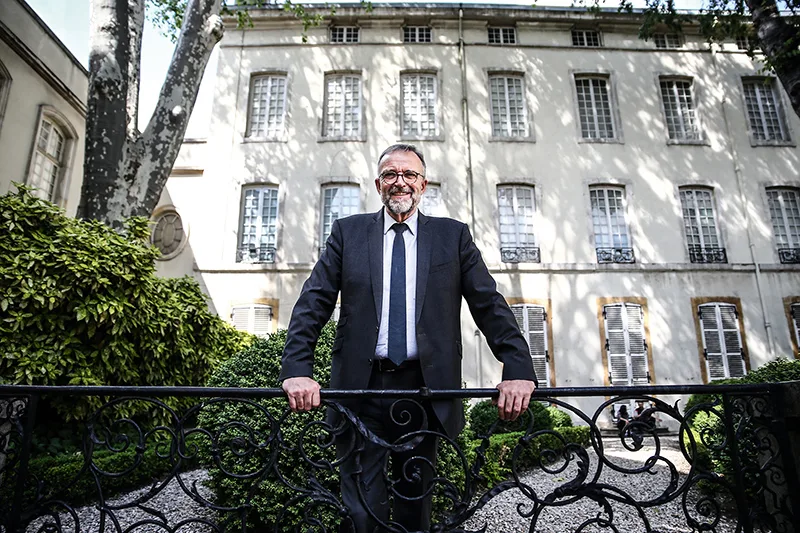 Etienne Blanc © Antoine Merlet
For several months, the former president of the LR group Since in the city of Lyon maintains doubts about his allegiance in view of the presidential election of 2022. While ensuring that he remains faithful to his party, the Lyon senator flirts with certain themes of Éric Zemmour, to whom he would have finally decided to grant his sponsorship. Not by"support", but to fix a "democratic nonsense", enough to sow even more doubt.
The great vagueness infringing the political allegiance of Étienne Blanc for the presidential election of April continues. Alongside five other members of parliament, the senator from the Rhône announced that he would grant his sponsorship to the candidate of the Reconquest party, Éric Zemmour. According to information from LCI and TF1, Étienne Blanc, Sébastien Meurant, Sylvie Goy-Chavent, Alain Houpert, Laurence Muller-Bronn and Philippe Pemezec, all members of the Les Républicains party, do not however owe the far-right candidate.
"This sponsorship is not worth support" specify these senators who considered attending a "democratic nonsense, because candidates solicited by millions of voters, found themselves unable to stand for universal suffrage" @LCI @TF1Info

— Sehla Bougriou (@SehlaBougriou) February 23, 2022
"We are witnessing today a democratic nonsense, because candidates solicited by millions of voters, in position, according to the polls, to access the second round, find themselves unable to stand for universal suffrage., argue the six senators. Before explaining havingdecided, in the interest of our country, in the attachment to the good functioning of our institutions, to bring their sponsorships to Éric Zemmour who, to date, does not have the sufficient number to stand for the presidential elections".
Read also: Controversial remarks on Vichy: in Lyon, Etienne Blanc leaves "immediately" his function as president of the LR group
Sponsoring is not supporting
Remarks which echo those of Prime Minister Jean Castex on Tuesday February 22, who, before parliamentarians, called on elected officials to "bring their sponsorships"to the presidential candidates, by accomplishing such a step"does not automatically equate to political support". About ten days ago, the one who was pushed to the bottom of his chair as president of the LR group in the city of Lyon after controversial proposals had already hinted at his position on sponsorships, explaining that "parties committed to the proper functioning of democracy must give candidates credited with more than 10% of voting intention, such as Éric Zemmour, Marine Le Pen or Jean-Luc Mélenchon, their 500 signatures so that they can participate in the ballot".
A message which had also earned him a response on Twitter from Laurent Bosetti, deputy mayor of Lyon, who therefore invited him to sponsor Jean-Luc Mélenchon. Not enough for the influencer Étienne Blanc who has decided to heat up the controversial soap opera that he has been maintaining since the summer on his positioning vis-à-vis Eric Zemmour.
Dear @blanc_etienneI'm counting on you to sponsor #JeanLucMelenchon, despite our differences of opinion. This would honor you, without suggesting that your call is only there to legitimize a future sponsorship to #EricZemmour.@Progress @tribunedelyon @lyonmag @lyoncap

— Laurent BOSETTI (@BosettiLaurent) February 16, 2022
A fool's game
For months, Étienne Blanc has continued to find himself in between his political family and the polemicist as we deciphered here at the beginning of January and this has not cleared up in 2022. From the first days of the year Étienne White thus threw a new stone into the pond by declaring in the columns of the Parisian "The question is clearly posed, is it not at Zemmour that our convictions are best defended?". Before explaining to us that "always said that the presidential election played with the themes imposed around the debate by Eric Zemmour. He speaks of the concerns of the Republican electorate"then make sure"I am LR and I remain so. I do not maintain the vagueness. I am at the level of ideas".
Read also: Lyon: between Pécresse and Zemmour, the ambiguities of Étienne Blanc
As specified by the six LR senators, the sponsorship granted to Éric Zemmour does not have the value of support, but in the case of Étienne Blanc there is even once again doubt about his political allegiance. Especially since only a few days ago he denounced the presence of his name in a group of local parliamentarians supposed to have a role in Valérie Pécresse's campaign. With 46 days to go before the first round of the presidential election, Étienne Blanc's political ambiguities are not over.
Read also: Presidential 2022: find out which candidate the elected officials of Lyon and the Rhône sponsored on February 22