The 'round table' of the 6 parties that came together under the leadership of the CHP in Ankara will gather for the exit of Turkey from sovereignty. In the statement published by 6 parties, it was announced that the decisions of the Council of Europe and the European Union, which impose their variables on Turkey, from Hagia Sophia to the Aegean Islands, from the Eastern Mediterranean to Libya, will be announced.
PUBLISHED A JOINT STATEMENT
CHP Chairman Kemal Kılıçdaroğlu, IYI Party Chairman Meral Akşener, Felicity Party Chairman Temel Karamollaoğlu, Democrat Party Chairman Gültekin Uysal, Future Party Chairman Ahmet Davutoğlu and Deva Party Ali Babacan met at a round table in Ankara on Sunday. publishing an output after targeting. 6 oppositions announced the road map they will follow if they come to power.
HDP Provincial Chairman Önsel: Our way is democracy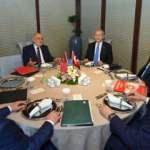 Davutoğlu: Here is the new name Kılıçdaroğlu proposed for the alliance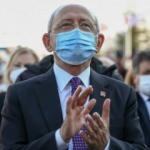 Statement from the IYI Party after the 6th meeting: Kılıçdaroğlu has no candidacy
In the statement, the leaders committed to comply with the decisions and norms of the Council of Europe (EC) and the European Union (EU). Concessions are demanded from Turkey's sovereign rights, which the opposition promises to implement in order to "build a democratic country". Here are those decisions:
1- MAKE AYASOFIA A MUSEUM AGAIN
Endless transmitters of the status of Hagia Sophia to the mosque. Give up the decision. Turn Hagia Sophia into a museum again.
2- GIVE THE ISLANDS TO GREECE
The Aegean islands of Greece are unquestionable. A respectful, provocative expression to Turkey in this context and it should benefit from it, a clear production can produce good neighborliness and they should strive for peaceful struggle against all kinds of problems.
3- STOP DRILLING IN THE MEDITERRANEAN
Withdraw drill and seismic exploration vessels from the Mediterranean. Give natural gas exploration use swarm in the eastern Mediterranean. Engage in a dialogue with the European Union and in full good faith.
4- TERROR OPERATIONS END
Son of Syria's military operation/operation against PKK/YPG. To withdraw your troops from Syria.
5- Withdraw from Libya
Turkey's ratification with the Libyan Government of National Accord is void without approval. It should withdraw from Libya like foreign powers in Turkey.
6- FREEDOM FOR KAVALA AND DEMİRTAŞ
Let Osman Kavala and Selahattin Demirtaş be released by applying the ECtHR. Let your decisions be applied to Turkey, which will not be implemented.
7- MARAS TO BE CLOSED AGAIN
We are against the reopening of closed Maraş. Let it be taken from all humanity thrown in Maraş. Otherwise all means and preferred.
8-ISTANBUL CONTRACT MUST BACK
Should reconsider buying Turkey from Istanbul.
9-GIVE ÖCALAN 'RIGHT OF HOPE'
ECtHR decisions should give the "right to hope" to Abdullah Öcalan and other prisoners, who were sentenced to life imprisonment.
SOURCE: NEW DAWN