The Albanian playmaker, born in 99 ′, showed off at the Maradona Stadium last January with Empoli. Now enchants A: 9 goals and 6 assists this season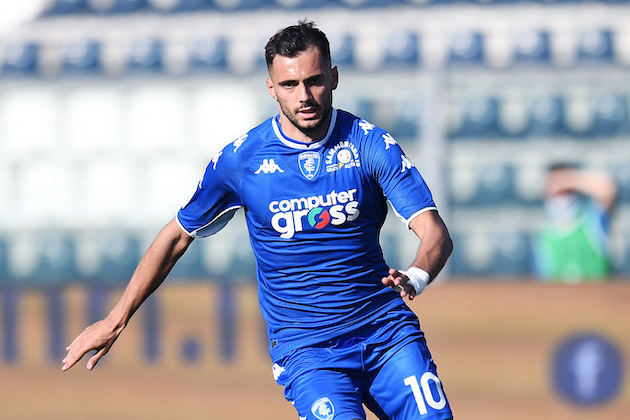 Empoli 08/15/2021 – Coppa Italia / Empoli-Vicenza / photo Image Sport in the photo: Nedim Bajrami
Two goals at the Maradona Stadium in Naples. Mark them Nedir Bajrami last season. Empoli arrived in Naples for the second round of the Italian Cup. The fact that a B team faced one of the strongest teams (on paper) of the Serie A championship, think of a match with predictable results. This was not the case. For the Neapolitans it was a tough match, very difficult. Empoli was coached by Dionisi, the current Sassuolo coach and was clearly the best team in the cadet league. In the end the blues won 3 to 2, Petagna scored at the last moment after Di Lorenzo and Lozano, who was in his best period, overflowing. In between were Bajrami's two beautiful goals: an extraordinary right-footed shot from the edge of the area at the thirty-third – which came close to the counts for the first time – and another long-range shot at the sixty-eighth. Two goals that showed an out of the ordinary ballistics. For a boy who played in Serie B it must have been a memorable afternoon.
That match was perhaps a foretaste of what Empoli's 10 (even though he wore 11 last year) has been showcased in this championship. Adapting to the top flight is not always easy. Andreazzoli had the skill to wait for Bajrami, to put him on the bench when he is served, and to relaunch him at the right time. Today he enjoys one of the most interesting talents in the league. The Albanian has already scored nine goals this season, between the league and the Cup Italy. You also served six assists, one today of excellent workmanship to Pinamonti, after a coast to coast.
One could say that he is a modern attacking midfielder, one of those who can play in (almost) all roles from the waist up. One of those for which it is still difficult to identify a well-defined role: it is a fact common to many talents on the European scene, a trend that confirms a radical change in the way football operates. Who is strong plays, being versatile is a virtue. Bajrami has class, he has shots, he has a good time in the insertion without the ball but he also has an important physicality: he is tough, you don't move him, he is structured. He would not be a further surprise of the range, he is not precluded. Especially for a certain stuff: he keeps the balls that burn, he manages the maneuver of his team. And he's a class of 99. He's twenty-two, with plenty of room for improvement. The impression is that keeping him, for Corsi, will be difficult already this summer. Another big shot of the scouting of a club that he has shown, in all these years, that he knows how to do with young people and how.