I am not sure that Bulgaria has a position on the crisis with Ukraine. This was requested by the political scientist Hristo Panchugov, a lecturer at NBU.
According to him, the conversation went in the direction of modernization of the Bulgarian army and armaments.
We remind you that yesterday you heard in the Parliament of the Prime Minister Kiril Petkov, the Minister of War Stefan Yanev, the Minister of Foreign Affairs Teodora Genchovska and the head of SANS, DAR and the Military Intelligence. The topic was the Russia-Ukraine conflict, the tension between NATO and the Russian Federation and the role of Bulgaria in NATO's decision-making processes on the issues, as well as the availability of an allied alliance in the territory of the Republic of Bulgaria.
The readiness to evacuate the Bulgarians in Ukraine is maintained
The Ministry of Foreign Affairs is in daily contact with the Embassy in Ukraine
According to him, politicians simply used the words "de-escalation" and "diplomacy".".
According to Panchugov, the Minister of War Stefan Yanev is trying to apologize in Russia that we are a member of NATO, which is frankly frivolous against the background of this situation.
"Of course, this crisis could be a catalyst for the Bulgarian armed forces. The big question is in what direction, but this is a question that is not addressed. A lot of effort has been put into saying that there are Bulgarian military units in Bulgaria. But let's not forget that we already have an American base in our country and we don't seem to be trying to apologize to Russia. for this fact, "Panchugov said.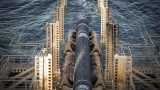 Nord Stream 2 will not start if Russia invades Ukraine, the United States said
Voices in support of the claim are also heard from Germany
Hristo Panchugov recalled that the Russia-Ukraine crisis was assessed as a threat to Bulgaria's security in 2018, when the National Security Strategy was adopted.
"Capacity has not been achieved to provide and develop scenarios for the potential development of this crisis," he said.
Bulgaria will be part of a meeting of NATO defense ministers in mid-February, the political scientist stressed.
"The mantra that it is good to resolve this crisis through diplomacy is great, but against the background of possible scenarios for NATO's response to possible Russian aggression.which are not many, Bulgaria must have some prepared position according to these possibilities and claritywhich would be the best for our country, so that our representative in NATO can know what to stand for or in what direction to lead this conversation ", the political scientist answers.
according to him the success of the claim depends on whether a long-term strategy for achieving the outcome of the crisis and for complex solutions is implemented..
"If he decides to work in different directions and succumbs to the pressure of palliative and short-term decisions, it can very quickly lead to a breakdown in trust," Panchugov added.