Serbia to buy two more Russian Kamov helicopters BGNES reports.
Serbia will continue to increase the strength of its army, not to attack someone, but to protect our people at any moment, President Alexander Vucic told Pink TV.
He stressed that you will invest huge funds. We give even 500 million euros more for defense than Bulgaria, Vucic pointed out and added that this is something very important.
"Our army must be powerful. "People must unite around this goal – to have my powerful army," the president insisted.
Zakharova warned the United States and NATO that Russia had been protecting Serbia for 200 years
She has said that anyone who has ever invaded Serbia is a member of NATO, and the Alliance is clouding the waters of the Balkans.
He says Serbia will buy two Russian firefighting helicopters, which he says are the best firefighting helicopters. They would help everyone in the region.
Serbia must have a strong army so that no one can blackmail the site in the future, as happened in 1998 and 1999 during the Rambouillet meeting, Vucic was adamant.
We recall that in the spring of 1999, negotiations were held in the French town of Rambouillet to resolve the conflict in Kosovo. That is why the Serbian delegation sent by Slobodan Milosevic refused to accept the proposals for a plan to resolve the crisis.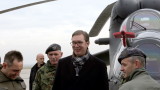 The Economist: Balkans vying for arms race – Serbia feverishly buys weapons
Thirty years ago, Serbia is at war with its small neighbors, no bigger than Bulgaria or Romania, it has been incorporated by NATO, but it wants to be ready