Great sporting gesture from Hannover 96! Dynamo Dresden's opponents will hold a minute's silence before kick-off in honor of Hans-Jürgen Dixie Dörner.
Dresden/Hanover – Just before kick-off Dynamo Dresden game at Hannover 96 there will be a minute's silence in the HDI Arena in honor of Hans-Jürgen "Dixie" Dörner († 70), who died during the week.
There was also a connection to 96 head coach Christoph Dabrowski (43). "I saw 'Dixie' Dörner at Werder Bremen as a young player, who always took me to friendlies with his hat raised," said Dabrowski at the press conference before the game against SGD.
We are talking about the 1996/97 season. The 96 coach was just 18 years old at the time and embraced the Bremen team at the transition from junior to professional, Dörner was his coach.
"He was a very pleasant and great person," recalls Dabrowski. "Of course it made me sad to hear about this news. On my behalf and on behalf of Hannover 96 I would like to express my sympathy. I wanted to convey this to all Dresdeners and all people from the immediate vicinity of 'Dixie Dörner' give."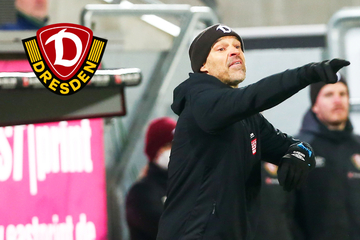 Dynamo Dresden
Dynamo coach Alexander Schmidt on Hannover 96: "They probably also have their weaknesses"
During the game, the SGD pros will warm up in a special shirt with Dörner's likeness and his legendary shirt number three.
Dynamo plays all black during the game. To make this possible, Hannover 96 does without the traditional black home shorts and – according to the DFL statutes, both teams are not allowed to have the same color shorts – and wears white here. There WILL also be a minute's silence immediately before kick-off.