European Cup. Toulouse. Lacroix reassembled, supporters cry foul on social networksThe cancellation of the European Cup match between Stade Toulousain and Cardiff has caused a lot of ink to flow. This Friday, the president of Toulouse Didier Lacroix did not fail to express his dissatisfaction with the situation. On the side of the European champion club, we do not understand why it was decided to cancel the meeting when a competitive group had been able to be aligned despite the cases of covid. The leader has not ruled out taking the case to court, believing that everything has been done within his club for the match to be held. Training has been canceled, players isolated and tested. The latter, the first actors impacted by this decision, wanted to speak unanimously via a press release. Rare pick in professional rugby. Note that the Haut-Garonne club was also supported by the LNR.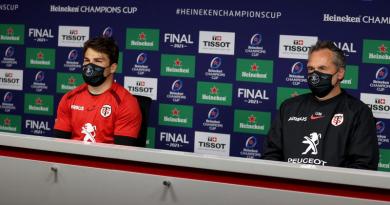 EUROPEAN CUP. The LNR denounces a scandalous and totally unfounded decision after the cancellation of Cardiff / Toulouse
To our great regret, we have learned of the cancellation of tomorrow's home game against Cardiff, and therefore our defeat with the score of 0 to 28. We can neither hear nor understand this decision which overwhelms us and for causes. We followed the EPCR rules to the letter, and we went even further. We have multiplied PCR and antigen tests, we have separated our locker rooms, we have agreed to cancel training and reinforced our health standards for playing. Throughout the week, the group is kept. All the players, young and experienced, stayed on deck and prepared themselves physically, technically and mentally to compete in a match at European level. Our audience, we wanted to find it, finally, after so many reports, cancellations and mishaps. We learn today that the EPCR makes fun of the rules and condemns us to a defeat on green carpet without valid and admissible reason. The injustice that inhabits us is equal to our frustration. We are overwhelmed by not being able to play, defend our title and wear our colors, in front of our public. Without playing politics, we tell you of our disappointment, which has been going on for several weeks. Today we feel anger. This feeling grips the entire workforce, determined this weekend, like the previous ones, to offer the club the possibility of fielding a competitive team and representing it in a competition that is so important to us. Our fate is no longer in our hands and we regret it.