"We are going there to try to win. Although we play with the finalist of the last year of the Euroleague, we also have our quality. After we played to a certain extent even with Ekaterinburg (77:90), I believe that we can also dare on Salamanca with them, "said coach Natália Hejková.
The Prague team won the first match in November at home by 25 points (80:55), but they have more defeats in the table compared to the Spanish opponent. In the event of Wednesday's failure, they would no longer have to fight for second place in their own hands. There are three rounds left until the end of the basic part, but Salamanca is still waiting for the postponement of the postponed match on the BLMA Montpellier field.
"It will definitely be a different match than in Prague. The public can't think we're going to Salamanca to win clearly. There is generally no winning in Salamanca, "Hejková pointed out.
"Ultimately, it turns out that our biggest problem is the initial loss in Montpellier, where we got 0.6 seconds before the end of the basket after being insensitive to a whistling failure. If we succeed there, it would now be a Salamanca and a mutual score that we have good. But the point is that if we want to be second, we must win now, "added the Slovak coach.
Kahleah Copper in WNBA matches:
Kahleah Copper (in blue) of Chicago Sky attacks the Connecticut Sun basket, trying to stop her with Brionna Jones (left), Briann January (20) and Alyssa Thomas (25).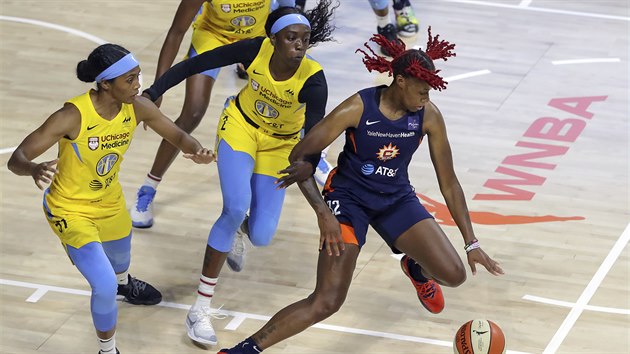 Bria Holmes (right) of Connecticut under pressure from Sydney Colson (left) and Kahleah Copper of Chicago.
Salamanca has been pulled in the last matches by the American shooter Kahleah Copper, who has an average of 26.4 points per match after five matches in the Euroleague. She did not play in the first match against USK and joined the team right after him. "She has a huge point average and has changed the game of Salamanca a lot. On the other hand, we can't just defend her, because there are very good long-distance shooters right behind her, "Hejková warned.
Katie Lou Samuelson, who has 14.8 points per game, and her sister Karlie are also successful in the Spanish team's jersey. "As far as I noticed, only in the last match against Venice (110: 69) did the Samuelson sisters put together 11 threes. But I believe that he has already chosen the good match after quarantine and cover, and it will not be like that on Wednesday, "said the 67-year-old coach.
USK Praha has not lost to Salamanca since 2013. The Czech champions should again be helped by the American support Thomasová, who underwent a coronavirus during the Christmas breaks and did not play against Ekaterinburg last week.
"The team is in full swing and that's good news. The fact that we have Alyssa back fills us with optimism. A super-strong opponent is waiting for us in his environment, but we will definitely not give up anything and we will fight, "added Hejková, whose participation in the quarterfinals is certain.
The match will start on Wednesday in Salamanca at 20:30 CET.