A solemn but warm ceremony in honor of the late President of the European Parliament, David Sassoli, brought together leaders of Member States and European institutions, representatives of parliamentary political groups as well as Sassoli's wife and children.
"Europe has lost a leader, democracy has lost a champion and we have all lost a friend," said Roberta Metsola, interim president and, since Tuesday, newly elected president of the European Parliament.
Sassoli was "of great vision and great conviction, both as a man and as a politician", she added. "This parliament, your parliament, thanks you for everything you have done."
Through the many speeches, Sassoli's values ​​were recalled – his love for people, his dedication to European citizens, the promotion of European values ​​and his role in building bridges between groups.
His colleagues warmly recalled his brightest moments and his achievements as a leader. Sassoli's response to the pandemic was one of those, Enrico Letta, secretary of the Italian Democratic Party and former Italian prime minister and MEP, reminded us, that when hospitals and intensive care units were under pressure impossible, Sassoli arranged for Parliament to make its drivers and cars available to medical staff, allowing them to reach people at home.
"Europe has lost a leader, democracy has lost a champion and we have all lost a friend" – Roberta Metsola, new President of the European Parliament
The Parliament buildings house victims of gender-based violence and domestic violence as well as the homeless. "It was open to citizens and close to their needs," Letta said.
Sassoli's humanism came to the fore as he fought for the rights of immigrants, minorities, workers and young people. He placed importance on participatory democracy, exemplified by the launch of the Conference on the Future of Europe in 2021.
Letta stressed that "making the Europe Conference a success would be the best way to honor David's memory".
"David, you naturally inspired respect, and that went well beyond your function," said European Council President Charles Michel. He also praised David Sassoli's "warm, authentic, smiling" personality.
Speech by Enrico Letta in tribute to David Sassoli. Photo by Daina Le Lardic via EP Audiovisuel.
For President Michel, Sassoli represented "a way of participating in political life that is neither cynical, nor Machiavellian, nor devious", but rather authentic and cooperative.
European Commission leader Ursula von Leyen was unable to join the ceremony due to contact with Covid-19 and honored the tribute with a Tweet with her holding a white rose, a symbol of the resistance taken from a group of German anti-Nazi youths during World War II. the late President had admired, which also adorned the seats of the hemicycle in Strasbourg.
It is with a heavy heart that I had to give up paying tribute to my good friend David Sassoli.

I always want to honor his memory with a white rose which was the symbol of his political and moral commitment throughout his life.

Buona strada, caro David.

— Ursula von der Leyen (@vonderleyen) January 17, 2022
French President Emmanuel Macron paid tribute to "a man of rare kindness, whose smile, vision and ideals were broad enough for a continent".
He underlined the "heart and ambition" shown by David Sassoli throughout the pandemic crisis, during which he presented Europe with "friendship and exemplary behaviour" in his leadership. He was "both an organizer and a peacemaker" in his post, because "he confronted ideas, never people", President Macron said.
The leader of the S&D group Iratxe García Pérez said that "the best tribute we can pay him is to continue his legacy: to build a social Europe and a migration policy that puts people at the center, to work together to achieve the Europe that he devoted his life to.
Manfred Weber, leader of the EPP group in Parliament, said Sassoli's "homeland was Italy, but his destiny was Europe", and paid tribute to his respect for Europe's history and diversity .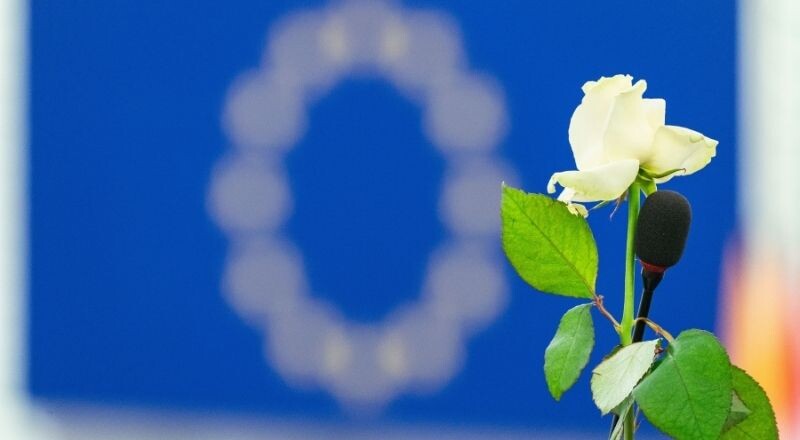 Photo by Philippe Buissin via EP Audiovisuel.
Dacian Cioloş from Renew Group said in his speech that "David loved people and people loved David". His lesson from the man he paid tribute to is that "the best decisions are made from the heart".
Even political opponents, such as Raffaele Fitto, the co-chairman of the ECR group, appreciated Sassoli's "dense and deep competence" and recognized how he "laid the foundations for future challenges".
Many condolences have been sent to Sassoli's family who are mourning his untimely death. Guests also included Italian Prime Minister Mario Draghi, and several speakers from EU national parliaments were also present.
The ceremony ended with a string quartet and soprano performance of the European national anthem to honor David Sassoli's lasting mark on the European Parliament and on Europe.