In the 7th arrondissement of Lyon, the Georges Clemenceau college has had a long-standing "bad reputation", this is what many parents of students notice. Some have decided to enroll their child anyway, ignoring this observation, which is ultimately based on little. What do they think of it, once back to school and a few months in college?
For many years, La Guillotière, in the 7and district, has a reputation as a particularly seedy district. Today, the problems of the Place Gabriel-Péri (nuisances of the street market and cigarette vendors, density of the crowd that gathers at the exit of the metro, etc.) even attract the attention of the national media and politicians who took the opportunity to position themselves on the recurring issue of insecurity, a few months before the presidential election.
It seems that this bad image of the district, the Guillotière, was transmitted to the public college of the sector.
The Georges Clemenceau college is an imposing building at the crossroads of the streets of the University and Captain Cluzan. Until this year, it welcomed a thousand students. The school has had a reputation for years that pushes some parents to try to avoid it at all costs, by circumventing the school map or enrolling their children in the private sector.
Despite these rumours, some parents insisted on enrolling their children at Clemenceau College at all costs, to preserve the public service of National Education as well as a certain social mix, consistent with that of this cosmopolitan district of 7and district of Lyon.
Social diversity in the colleges of the metropolis of Lyon, a utopia?
On the occasion of this 2021 school year, Rue89Lyon is looking into the question of social diversity among students in the metropolis of Lyon. Some towns on the outskirts of Lyon, and some districts of Lyon, are home to a disadvantaged population, often non-qualified and exercising difficult jobs, little sick and little paid. In some of these sectors, the division of the school map is aligned with the invisible limits that separate these poor neighborhoods from the wealthy neighborhoods of the metropolis. Rue89Lyon deciphers the phenomenon and its consequences for families and students in the metropolis of Lyon. In four parts:
"Of the 30 students in my daughter's CM2 class, only 10 went to Clemenceau College"
Pauline* lives in 7and district of Lyon with her 11-year-old daughter. Last September, the teenager made her comeback from 6and at the public sector college, Clémenceau. Unlike the majority of his primary school classmates.
"Out of my daughter's CM2 class, which had around thirty students, only 10 went to Clemenceau, sums up Pauline*. The other parents sent their children to the Saint-Louis-de-la-Guillotière college, to Lestonnac or to other private schools. At the end of primary, there were big discussions between parents of students to find out how to avoid Clemenceau college. »
The situation is identical in the primary school of the daughter of Hélène, a teacher at the University of Lyon and mother of a 12-year-old teenager.
"My daughter's classmates have massively gone private. I heard about the reputation of Clemenceau but I deliberately blocked my ears. »
In the 7and arrondissement of Lyon, it seems that an urban legend circulates between the parents of students, who for years have been peddling sordid stories about the establishment, reflected on real facts that have been blown up and distorted from year to year.
Carine is a neighborhood parenting consultant and mother of two boys. She has often heard these rumors about Clemenceau College.
"I heard about his bad reputation, that there were aggressions, very strict discipline and a not very high school level. But it bothers me that people say it's a lousy college when they haven't even tried. »
Music, Chinese, sport: Clemenceau college goes all out
All three have therefore decided to enroll their children in Clemenceau College, despite these rumours. Pauline*'s daughter is in 6and, Carine's sons are in 4and, the daughter of Hélène in 5and. All say they are more than satisfied with the teaching team and the management, and see their children flourishing.
"My daughter went back to 6and in the midst of a pandemic, specifies Hélène. It went very well. The establishment is extremely well kept, the management team is very present and responsive. There is not too much turnover among teachers. People have been there for a long time, that's a very good sign. »
It also lists a list of activities and options available at Collège Clemenceau, which not all public – or private – colleges in the Lyon metropolis can boast of.
"There is a recognized music association which allows all students to have access to an instrument and to furnish the meridian breaks in an intelligent way. There are associations that offer debate workshops, theatre, lots of sporting activities… There are balance sheet sections and the pupils can also learn Chinese, Latin and Greek. »
Beyond the rumors, founded or not, it is also the size of the college that slows down some parents. Until this year, it had a thousand students, a significant capacity in the metropolis of Lyon, where colleges tend to revolve around 700 students. A real anthill, which does not correspond to all children.
If her youngest son "has a blast" at Clemenceau, Carine had to change her eldest son's establishment in 5and.
"My eldest son has reached high potential and he also has dys disorders. He has special needs, it didn't go well at Clemenceau. In 5and, I enrolled him at the Collège des Battières, in the 5and district of Lyon, where there is a system for precocious children. It's a mini-Clemenceau in terms of social diversity, but there are 500 students instead of 1000 and the teachers are trained in these disorders. »
Since last September, the numerical situation has improved for Clemenceau. The construction of the new Gisèle Halimi secondary school, in Gerland, is the place of support for the school establishment of a few hundred students. WE SHOULD HAVE THE NUMBER OF PUPILS TODAY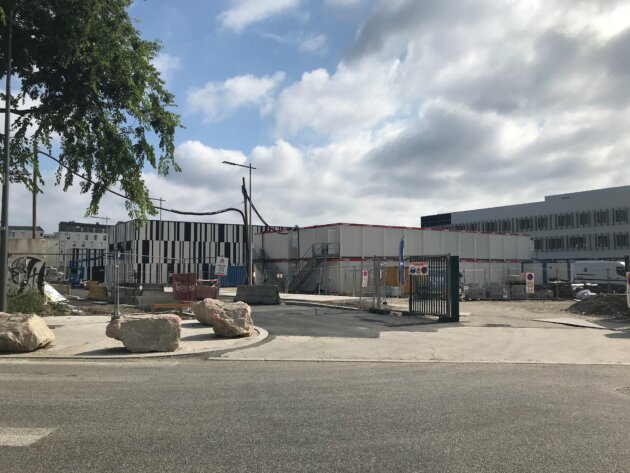 "Living together is not just with people who look like us"
All this is not enough to reassure parents when entering 6and. Especially in the 7and district of Lyon, where competition is fierce with the private sector.
800 meters from the Clemenceau college, for example, there is the private college under contract Saint-Louis-de-la-Guillotière then, a little further, the Lestonnac college. Between the two, the non-contract private school of La Chrysalide, which also welcomes children up to 3and.
Hélène, for example, lives close to Lestonnac College. The secondary school of his daughter, Clemenceau, is much further from home. However, it is out of the question to enroll her daughter in the private sector for Hélène, who is very attached to public service.
"We want to play the public service game, therefore, by registering our daughter in the sector school and following the school map, she summarizes. If we all go into the private sector, there will be no more public service and those who can will go into the private sector. It is a form of separation. My daughter may not be in the Lyon elite college, but she is following a perfectly normal and fulfilling schooling. »
For Carine, it was also important to confront her sons from college with the reality of their neighborhood.
"It's important for me that my sons go to the public sector college," she explains. It's our neighborhood, and I don't like the idea of ​​consuming in a neighborhood for some things and rejecting it for others. »
These parents of students are all convinced that public school and the social mix it allows a lot to be offered to their children, beyond maths and French. Including in certain establishments reputed to be difficult.
"School is not just about learning, observes Carine. It also means creating links and gaining open-mindedness, understanding that we are not all born with the same chances. Parents who put their children in private is not to meet their needs. They are driven by their own projections, they build their elite. »
And to insist:
"This experience of living together is essential. When we talk about living together, it's together, not just with people who look like us. »