01/17/2022
Photo: CSOP Prague 5 (as well as other pictures in the article)
Description: Grandmothers reading in Children's Stories of Hřebenka
"In the autumn of last year, the contributory organization Center for Social and Nursing Assistance Prague 5 launched the project of reading grandmothers in the Hřebenka children's boards (until 3 December 2021 Hřebenka nursery)," said councilor JUDr. Petr Lachnit.
Surely everyone will remember their childhood and the magic of fairy tales, which came to us through our grandmother or grandfather, who read us fairy tales before falling asleep. In today's hectic times, it is especially important for the little ones to live their fairytale period in the most beautiful way possible. And because it is not a rule that there is a grandmother or grandfather in every family, in Prague 5 they opted for reading grandmothers, they have not yet found a grandfather. In a very short time, they managed to find three grandmothers in the 'Grandma Reads' project.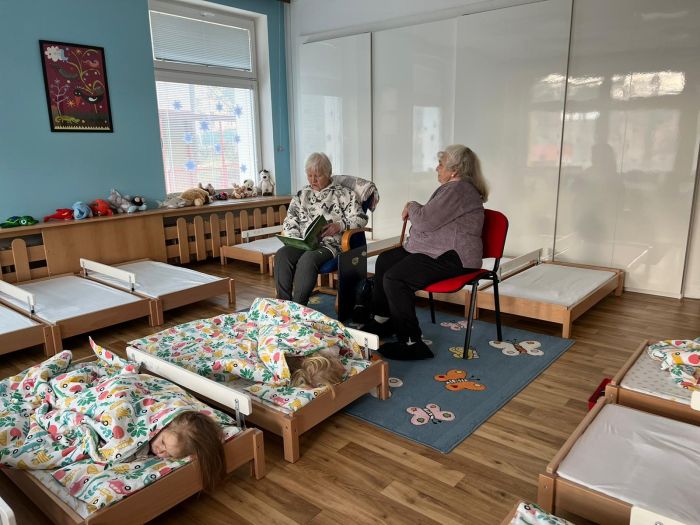 Grandmothers reading in action
And how does the project work? Twice a month, a selected grandmother comes to the children's groups, who is really introduced to the children as a grandmother. After lunch, when the children relax in the cribs, the grandmother begins to read the fairy tale. Fairy tales have the classic and informative ones, where good triumphs over evil, children teach Czech traditions, get to know culture together and promote social values. Grandma says goodbye to the fairy tale and leaves. The children are looking forward to the next time and often ask when the reading grandmother will come to read again. "Some grandmothers found us on their own, some signed up for us from our Louka Community Center, where they go to courses and programs. Our reading grandmothers are very active women, full of vigor and have the gift to share the joy. We are very pleased that the Center for Social and Nursing Assistance in Prague 5 has the opportunity to hold such a meeting and, if the covid situation allows, we will continue to support intergenerational relations. We are aware that it is a very enriching affair for everyone, and that is why reading grandmothers have another offer for traditional gingerbread baking in our kitchen. We are looking forward to everyone's festive atmosphere and further meetings with our grandmothers, "adds councilor Lachnit.
Entered by: Markéta Vančová