Luxury accommodation has been added to the center of Prague. UBM Development has approved the luxurious five-star Andaz Prague Hotel with 176 rooms, which is the premier entry of the Hyatt network into the Czech Republic.
The hotel is now installing equipment and finishing the restoration work. The more than 100-year-old building of the Sugar Mill Palace on Senovážné náměstí is a listed monument.
"Hotel Andaz Prague, the highest line of the multinational luxury hotel chain Hyatt, is our largest investment in the Czech Republic in almost 30 years," said Josef Wiedermann, CEO of UBM Development Czech Republic.
Take a look at the interior of the Sugar Mill Palace:
The Hyatt network currently has only four hotels in Europe – in Vienna, Munich, London and Amsterdam. Prague will be added soon. Trial operation of the hotel on Senovážné náměstí will begin in the spring.
In addition to luxury accommodation, the hotel also has a fitness and wellness center, gastronomic facilities and 450 meters of space for various events. From the original meeting room of the sugar association's management, it becomes located in the bridge leading to Jindřišská Tower, with a conference room. The new purpose of historical securities will thus be very similar to the original.
Lukáš Pytloun: We will invest 000 million by the end of next year
Head
The tourism segment has weakened significantly in the last two years and domestic hotel operators have faced a sharp drop in sales. "Honestly – if the crown came two years ago, we would have bigger problems," says the owner of the hotel chain of the same name, Lukáš Pytloun, who opened a new hotel in Kampa, Prague, a few weeks ago.
Read the article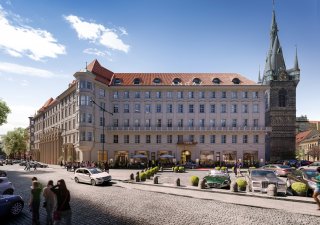 Prague lacks luxury hotels. Investors are finishing the conversions despite the covid
Money
Despite pandemics and dramatic tourist accommodation, luxury hotels are growing in Prague. However, the "five-star" segment is still not saturated.
Read the article