Best Club of the year, best player for Johnathon FORD and trainer for Sylvain Houles: Toulouse Olympique takes it all across the Channel!
To conclude a successful year for Toulouse Olympique XIII, the weekly 'League Express' has just unveiled the results of its 2021 poll, which as a reminder asks its readers and rugby league fans to vote for those who have marked the history of sport this year.
Toulouse Olympique crowned Club of the year 2021
Strong blow for Toulouse Olympique, which was elected club of the year among the greatest of European Rugby League: St Helens and the Catalan Dragons, respectively winners and finalists of the Super League 2021, Featherstone Rovers, Championship finalists, and finally the Barrow Raiders for their season in League One.
The exceptional course of Toulouse Olympique during the 2021 season less strong recognition from the English public and the results speak for themselves: the TO has accumulated no 43.3% of the vote, followed by the Catalan Dragons ( 29.8%), St Helens (15.1%), Featherstone Rovers (6.2%) and Barrow Raiders (5.6%). A very promising welcome for the coming season.
Sylvain HOULES elected 'Best Championship Coach of the year'
Already listed among the 5 personalities of the year in the Rugby League Year Book 2021/2022, the TO coach was also voted Best Championship Coach of the year. This victory hands down (72.4%) comes once again the coach's season and the feat achieved at the end of it: allowing Toulouse Olympique to become the first club at the highest level of rugby union. European.
He faced the Batley Bulldogs' Craig Lingard (8.7%), James Webster (8.7%), who led the Featherstone Rovers to the championship final, Gary Charlton (4.6%) of Whitehaven and Simon Grix ( 3.8%) of the Halifax Panthers.
Johnathon FORD named 'Best Championship player of the year'
The captain of the TO Johnathon FORD was also recognized by the readers of League Express for his qualities of playmaker. the team, which made the strength of the TO. He finished well ahead (67.2%) against Craig Hall (18.9%) of the Featherstone Rovers, Lachlan Walmsley (5.7%) for his season at Whitehaven, Tom Gilmore (5.5%) of the Batley Bulldogs and Brandon Moore (2.7%) of the Halifax Panthers.
Superb recognition for French rugby union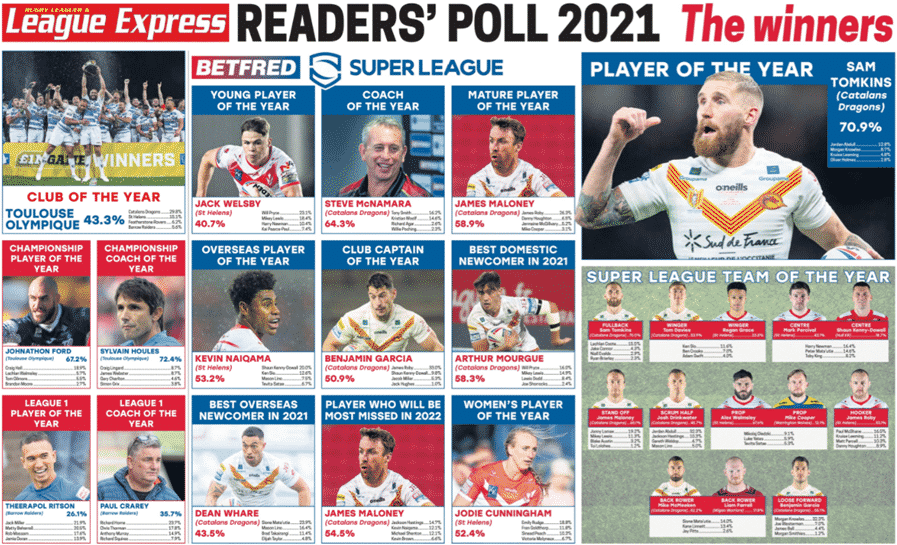 In addition to the Toulouse Olympique distinctions, the Catalans Dragons also won the day with no less than 7 awards in the Super League categories, including player of the year (Sam TOMKINS), Coach of the year (Steve McNAMARA) and Captain of the year (Benjamin GARCIA). These awards illustrate the work of the two locomotives of French rugby union.
See you on January 29
Precisely, the two French clubs meet during a preparation match on Saturday, January 29 at the Gilbert Brutus stadium in Perpignan. An appointment not to be missed ! Information on ticketing and timetables will be communicated promptly.