12/30/2021 –– interior –– Ondřej Krynek
In the center of the capital in Opletalova Street, opposite the Central Station building, we find the Miss Sophie's Downtown Prague Hotel, whose interior was designed by the Tek Tek architectural studio. He was inspired by the interior of the legendary cars of the Orient Express train. The built-in furniture has a large part of the construction made of tubes, there are also wooden benches.
"The different styles of the two buildings and the location in close proximity to the Central Station were the main inspirations for the design of the hotel interior. In the case of both historic and contemporary buildings, the elements of the interior are inspired by trains and station halls, ie in general by technical and transport aesthetics. In the case of an older street building, the mythical Orient Express was the prototype of the train, and the Pendolino model for the current building located in the courtyard. In neither case is it a literal copy of these inspirations. The intention was only to create an atmosphere that visitors could experience if they arrived in Prague and the hotel by train, "say architects Veronika Veselá and Ludmila Foblová.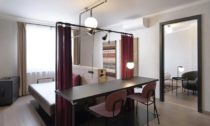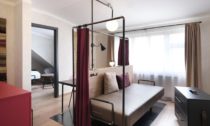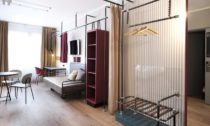 "Most furniture is therefore assembled from assemblies of tubular structures, either bent or connected by type flanges and fittings. The execution of the details is intentionally raw, with admitted ground welds. In a historic building, isolated islands always form the center of the room. In a modern building, on the other hand, the same starting elements are laid out in linear structures, which always run along one side of the room. The beds and couches are mobile, fitted with wheels. The kitchens resemble refreshment service carts. Mirrors, headboards, cabinets, shelves and other details are hung on steel structures over leather straps, "they add.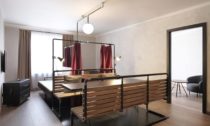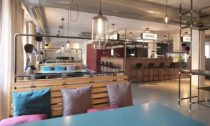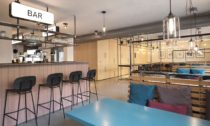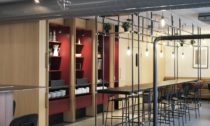 The style in which the hotel is designed certainly does not lack originality and courage on the part of the hotel operator. In the interiors of the rooms, however, the solution diminishes the cosiness. In the restaurant, some textile elements, otherwise only colors, try to make them more pleasant. this does not change the fact that the overall expression is unmissable and easy to remember. However, the price for one night in a hotel is not low at all.
Read more articles on hotel and living
Photo and source: Tek Tek
Author of the article
Ondřej Krynek is an admirer of imaginative design, creative concepts, modern architecture, pleasant interiors, innovative technologies, new media, usable web design, extravagant fashion, expressive art, good music and other cultural fields.