Antwerp
–
The Noorderterras along the Scheldt quays will be completely renovated next year and will be planted as in a dune landscape. The 'Kaailine' should give the walking terrace new grandeur.
Originally, it was the intention to first make the pedestrian terrace between the Zuiderterras and Steenplein greener. However, research has shown that the quay wall must first be stabilized at this location. And for that, the Zuiderterras has to be closed to the public for a while.
"That's why we chose to tackle the Noorderterras first. After the restoration of the pedestrian boulevard, a green zone will be created with various planters. It concerns a permanent installation," says Alderman of Urban Development Annick De Ridder (N-VA). In the meantime, research is being conducted into whether the roofs of the hangars, which are behind the Noorderterras, can be made. In addition to the quay road under the terrace, the area under the hangars will also be repurposed in due course. By making the roofs of the hangars transparent, there is more light.
Sea kale and cypress herb
After the renovation, the Noorderterras should become a green pedestrian boulevard. The Kaailine was not chosen by chance and refers to the green one to the High Line Park in New York, where a train track in Manhattan has been converted into a zone.
In Antwerp, plants that thrive near the Scheldt with its brackish water are chosen for the greening of the Noorderterras. "Large plant, steel and wood are connected to each other from a concatenated green zone. There is a minimum passage of three metres,' explains Annick De Ridder.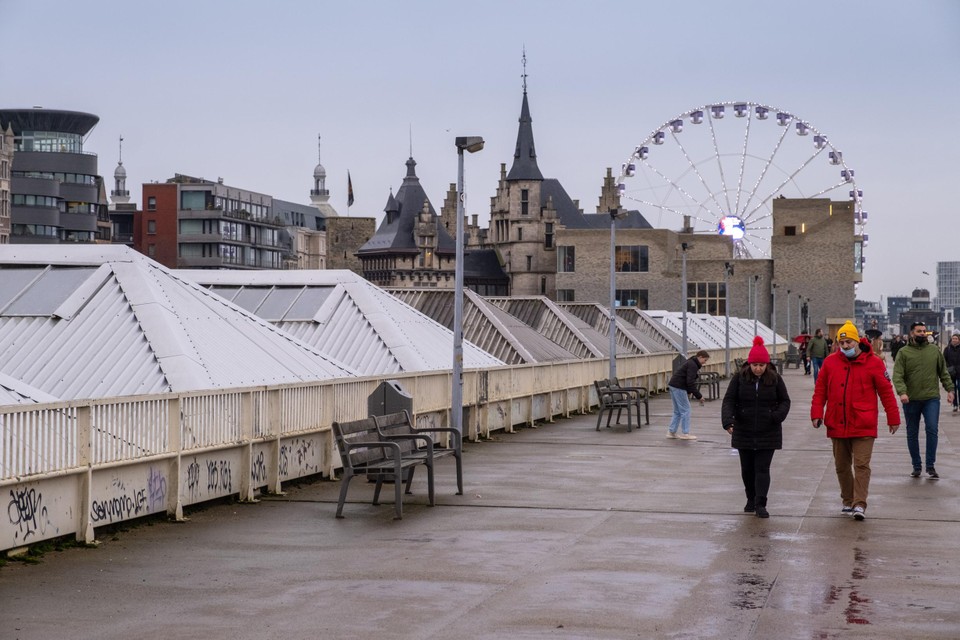 There will be a mix of grasses such as verbena or large pimpernel, which change into shrubs and shrubs with a maximum height of one and a half meters. In addition, there will be zones with plants such as sea kale, cypress herb and bluespirea. The planting areas are such that they can buffer rainwater.
"Because the planting areas are along the city side, the view of the Scheldt is preserved. The seating furniture, both free-standing and part of the planting areas, is also placed with a view of the Scheldt," the ships continued.
Without unexpected problems, the restoration of the hangars and walking terrace will start in the summer of 2022. The Kaailine is part of the central part of the Scheldt quays, between Noorderterras and Zuiderterras. A design for the quay area is being drawn up for that part. The reconstruction of the quay plain between Noorderterras and Steenplein, i.e. below the pedestrian terrace, is planned from the spring of 2024.