Czech Railways sold tickets for non-existent connections. The reason was an error in the data due to a planned exclusion.
In its e-shop, Czech Railways offered connections between Prague and Hradec Králové on expressways along a route that they cannot travel on even this year's timetable. For passengers, this could be a big complication: tickets were on sale in non-existent routes.
While in the past the express trains ran through Vysočany and Lysá nad Labem, this year the trains are to run through Poříčany and further to Nymburk. However, the ČD e-shop sold tickets from Vysočany to Hradec Králové for the affected express trains. Only the suffix that it is not possible to reserve a seat on the train appeared on the website. However, trains on the route are not mandatory. After the possibility of canceling a specific place, which the site also offered, it was possible to purchase.
ČD stated on its ČD Mimořádnosti website that due to incorrect incorporation of exclusions into electronic timetables, trains of the R10 line do not stop at the Prague-Vysočany station.
The IDOS internet connection was no longer offered by direct trains in the morning and tickets for the affected connections could not be purchased. The first direct connection, as ČD also refers to its extraordinary features on its website, is the evening express R 957. It departs from Vysočany at 22:19 and arrives in Hradec Králové at 23:48. The reason for redirecting to the route through Lysá is the exclusion on the route through Poříčany. The lockout starts today at 10 pm and ends on Saturday at 5 pm.
Shortly after noon, Czech Railways apologized to passengers for the mistake. "First of all, we apologize to passengers for any complications associated with an error in the electronic timetable for today at the Hradečan and Krakonoš express trains on the R10 line, " said spokesman Petr Šťáhlavský, who also explained the origin of the problem: "The error occurred at Chaps, which manages electronic timetables. It was a human error, when the validity of the lock was set from the morning, it was correct only from the evening from 22:00he explained.
Upon warning, the company Chaps corrected the error, the update took place today at 9 o'clock. The mistake affected the running of five pairs of trains. Passengers then had to use alternative modes of transportation to get to the right station. "If a similar situation occurs, the passenger can use public transport to the station Prague-Libeň and travel on the nearest connection in the direction of their travel, or use the nearest connection in the direction of Prague hl. n. or Nymburk hl. n. and there change to the nearest suitable connection in the direction of the planned route,"Concluded Šťáhlavský.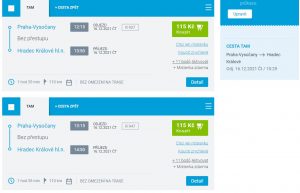 7 comments