It's a new start for TWB. Founded in 2012, this joint research unit specializing in biotechnologies moved into its new premises in the fall of 2020, nestled in the heart of the Insa campus in Toulouse. Cramped in its 1,800 m2 of premises in the heart of the technological park of the canal in Ramonville, Toulouse White Biotechnology has committed 6.5 million euros to purchase a new 3,300 m2 building (funded to the tune of 3.9 million euros via the State-Region plan contract and 2.6 million euros through Toulouse Campus).

1,000 strains per week
The site has two search platforms. The first is dedicated to strain engineering. It is equipped with automatic devices to ensure each step of the process: purification of DNA, cloning and transformation of microorganisms, optimization of protein expression by automated expression screening. "This equipment allows us to produce up to 1,000 strains per week", says Laurie Rey, Business Director at TWB.
Automatons are used to carry out strain engineering (Credits: Frédéric Scheiber).
The second platform focuses on fermentation from micro-organisms (yeasts, bacteria, microscopic fungi, algae) in containers of 50 ml to 300 liters. TWB has also integrated the technology of the startup Altar. Based on a natural selection mechanism, it allows the development of new microbial strains that are not genetically modified.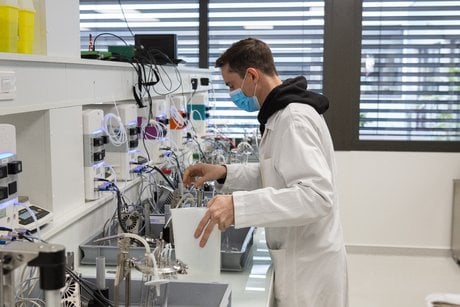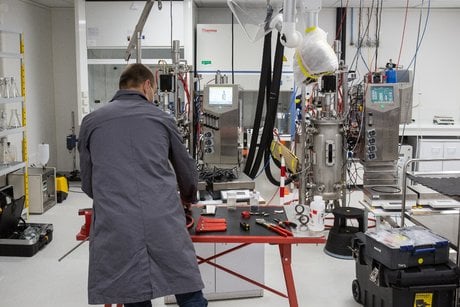 The microorganisms ferment in containers of 50 ml to 300 liters (Credits: Frédéric Scheiber).
Growing biotechnologies
In addition, the new building has 500 m2 where it houses five startups. This is the case for example of Pili who has been working since its foundation in 2015 to create "biobased and ecological pigments and dyes", an alternative to polluting products mass-produced in Asia from petroleum and coal derivatives. To achieve this, the young shoot is working on an industrial process based on two stages, namely"a fermentation part with renewable materials", followed "of a chemistry step". "This makes it possible to divide CO2 emissions by three to five during production ", says Guillaume Boissonnat. Its first textile dye will just start to be marketed. Biotech currently has 26 employees spread over three sites (Toulouse at TWB, Paris and Lyon), including 8 recruitments over the year 2021. "Many of the hosted startups have seen their workforce grow and having larger premises allows us to support them longer until the pre-industrial phase", notes Laurie Rey.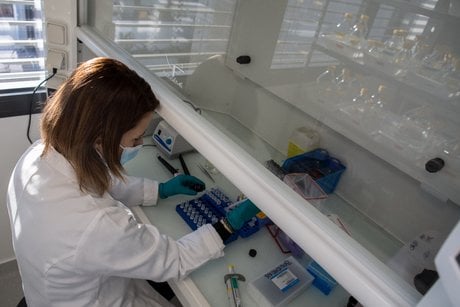 Five startups are hosted within TWB (Credits: Frédéric Scheiber).
Among the startups passed by TWB, in particular is Micropep Technologies, which completed a round of funding of 8.5 million euros last summer. The young company uses small natural proteins produced by plants, or micropeptides, which allow to control and temporarily direct the genetics of plants. This disruptive technology precisely improves the traits of plants without altering their DNA. Several personalized treatments for plants can be made and used to speed up or slow down germination, increase disease resistance or improve flowering. On the other hand, Enobraq, which specializes in the use of CO2 to improve agrifood yields, announced on Linkedin a few days ago that it was ceasing its activities.
Le Toulousain Micropep Technologies raises 8.5 M € to treat and boost plants
Beyond the boom in startups, TWB is facing strong growth in its research activities. As part of France Relance and the fourth pfuture investment program, the Toulouse platform has won three projects (worth four million euros) for the major biomedicine challenge. These relate to the production of therapeutic antibodies from microalgae, the production of RNA from yeast and the installation of bioreactors to ensure on-line control of production.