Grungblavers Erik Goossens and Marc Fransen are hungry for the stage: "As far as rehearsals are concerned, it was always quite chaotic. It was not easy with the corona-related red tape. Even after a self-test, we only give each other a fist. There is no cuddling. But on the podium we are all happy, even if we are one and a half meters apart."
On to the cathedral?
A Christmas concert requires an adapted repertoire. Today we don't bring heavy dance numbers, but classics as Jingle Bells, Imagine and oh happy day." As for that last song: "We only found out today that Ludovic's mother (Grungblaver Ludovic Nyamabo, ed.) The cover is from the gospel choir that sings in the Sint-Walburgiskerk. A missed opportunity, but we will rectify that next year because the acoustics and atmosphere are perfect here." The church organ also appeals to the Grungblavers: "We wanted that technical implementation in our concert, but that turned out to be a utopia so quickly. That will also be something before 2022."
In the long run, the gentlemen see it even bigger in terms of concerts: "The idea was originally to perform in the Cathedral of Our Lady, but unfortunately they had already organized another concert there. Very unfortunate, also because Bishop Bonny is a big fan of the Grungblavers. But postponement is not adjustment."
The concert was also streamed on Saturday to seniors in the WZCs of Zorgbedrijf Antwerpen: "This way, people who can't or don't want to go outside can also enjoy it. That is not cheap, but thanks to ticket sales it is still doable, also because we do not earn anything from these performances ourselves. We are here for our pleasure."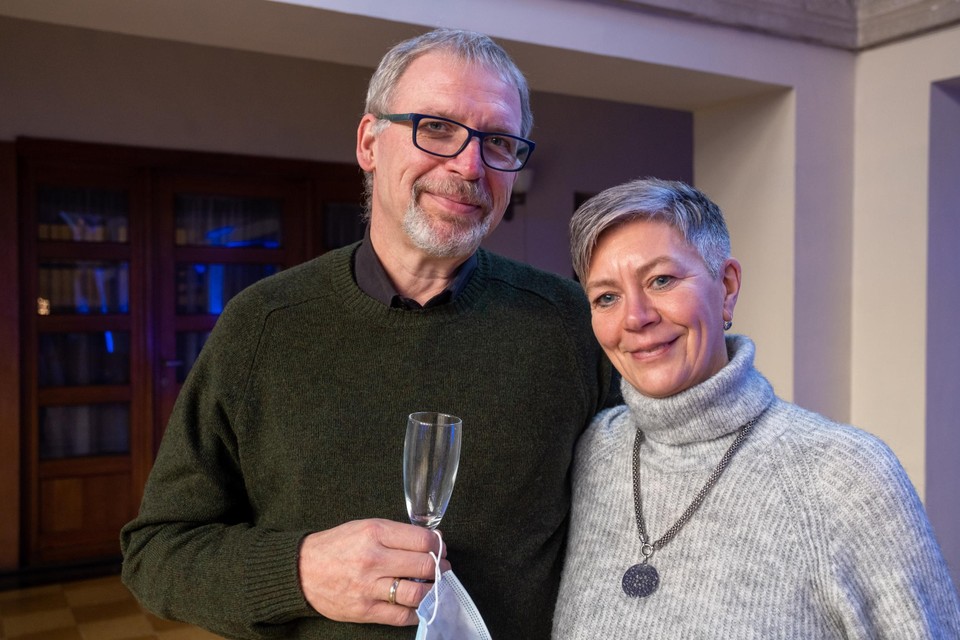 chairs
Mulled wine, fresh pumpkin soup and cava were available in the 'bar' of the modernist church in Volkstraat. There we also meet Luc Huyskens (59) and Carine Caluwé (54) from Westmalle, who are enjoying a glass of bubbly. "We are friends with Dirk Cassiers, we have known the Grungblavers for a long time and we try to participate in every performance. We are just not groupies yet."
They don't like the location in the South: "This isn't the most beautiful church in the city. Two years ago we experienced their performance in the Sint-Anna-ten-Drieenkerk on the Left Bank and that was more beautiful and cozier. The cathedral would be fantastic, but we especially at the Lotto Arena."
Luc: "It's a bit strange that the number of visitors is limited, but today the seats are right next to each other. This church is big enough for social distancing. Anyway, it will be a nice concert."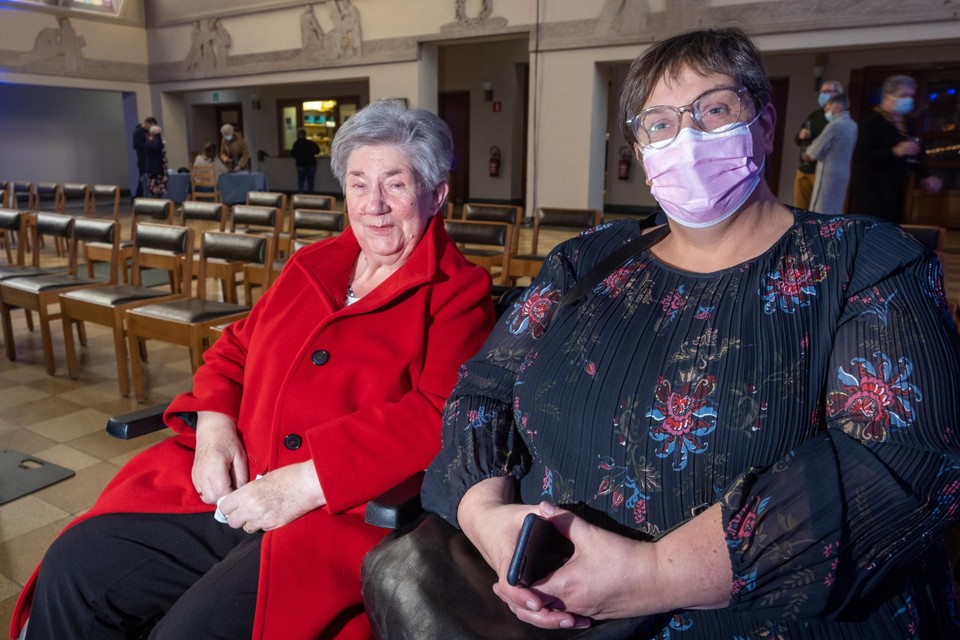 Everything will be fine
Tine Olyslaegers (55) and her mother Irene van den Bos (76) from Kontich are also looking forward to the karst conceir. "It has been four years since we last saw the group, in the Open Air Theater in Rivierenhof, on Mother's Day.'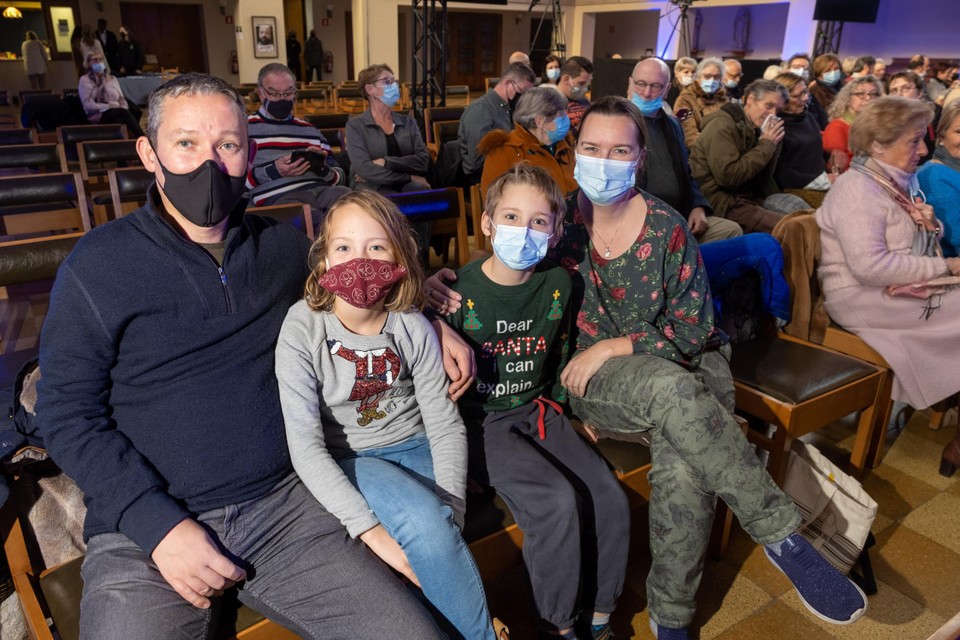 Kathleen Dillen (41), Erwin Joris (43) and their children Maria (10) and Lucas (8) from Zwijndrecht are also fully part of the 200 admitted fans. "The Grungblavers sing beautiful songs and are sometimes very funny. We last saw them at the Tunnelplaats. That was great and we sang along loudly." Their favorite songs are all of them, The Blue Stone and Marieke.
Erik Goossens concludes: "Our Christmas message is that people should stop pointing fingers. The government, the cultural sector, the catering industry, the care sector,… Looking for a culprit is in the nature of the human beast – certainly when wanted frustrated – but the only person responsible is the virus itself. Start with yourself and take a bitter pill every now and then. Because in the end everything will be fine."