It is quite normal and expected that the variant of COVID-19 Omicron will be distributed in Bulgaria as well. This statement to BTV was made by the caretaker Minister of Health Stoycho Katsarov.
"This is the nature of airborne infections. None of these variants of the virus have been skipped, so I don't think that will skip us," he said.
To date, no cases of Omicron have been officially confirmed. However, expect to sample the tests of suspicious subjects to be analyzed, and it would not be surprising if some of these samples or others in the future will become clear from the words of the head of the health department.
No additional measures are required due to the new strain, announced this one. At the moment, the entry of people from South Africa, where the hearth of the new option is, is not allowed.
1652 newly infected and 116 participants with coronavirus per day
The active reductions, newly cured are 2690 people
Katsarov does not accept and criticizes his work as a caretaker minister. I give an example – the "lethality" in previous COVID waves was higher.
"This is due to the fact that a better organization has been created. There was no chaos and panic when accepting the hospital, there is no such thing now," said Katsarov. The high mortality rate in our country was due to the poor and inefficient health care system, I think the Minister.
Katsarov stressed that he has made every effort to have a higher percentage of vaccinated, and the first thing he did as a minister may instruct GPs to vaccinate the elderly as a priority from Monday to Thursday. However, many of the political forces in this parliament, he complained, were outspoken advocates against immunization.
"I think they should also take part of the responsibility," Stoycho Katsarov was sharp.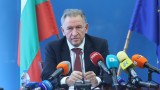 Prolonged epidemic situation until March 31, 2022
The vaccination coverage in the country is 25.53%