Antwerp
–
Painter Ysbrant 17 died in Sicily. He was 84 and exposed since 1971 in De Zwarte Panter in Antwerp. He was a bosom friend and roommate of Jan Decleir, met him two years ago when he was naked. That was goodbye.
At the beginning of 2020, the body was no longer willing to go along, but painting still gave him a lot of pleasure. That was fully reflected in the exhibition The finishing touch he had in The Black Panther. This happened together with bosom friend Jan Decleir, with whom he also shared a house and studio in Berchem. The two had known each other for decades and appreciated each other.
"The title" The finishing touch would symbolic text", Adriaan Radonck of De Zwarte Panter. "And even symbolically, Decleir's expo was then called 'Beginners' happiness'. It was Ysbrant's goodbye. After that it went downhill physically quickly. Fortunately, he was taken care of by his good friend Katell Bertrand. Since corona, he no longer came to Antwerp, but he came to her house near Palermo."
The Hague
Ysbrant 17 was born in 1937 as Ysbrand Dirk van Wijngaarden in The Hague, but lived in England, France and especially Italy. Antwerp, he started returning there to the Higher Institute, ever since he returned to the Higher Institute. "I experienced the important art moments in Antwerp. It started in 1957 with the Gard Sivik on the Stadswaag, but I was also there during the sixties in De Muze", he said in an interview in Gazette of Antwerp. As proof of this, a fresco by his hand still hangs above the bar in the café on the Milk Market.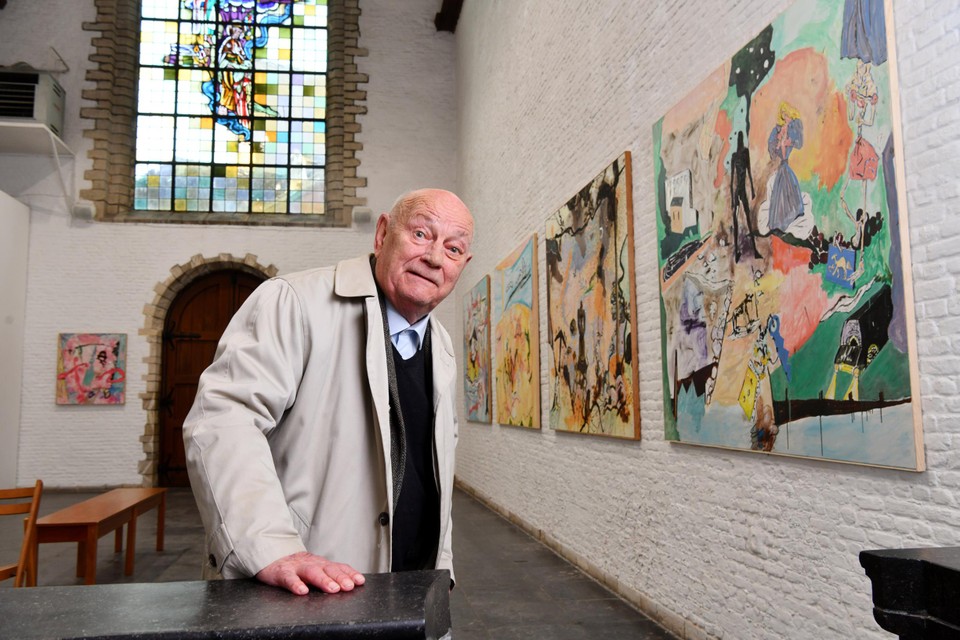 A large work of his can also be admired in the Demian bookshop on Hendrik Conscienceplein. After all, love for books and theater was another constant in his life. He enjoyed working with Remco Campert and Jan Mulder was also a close friend.
In 1978 Ysbrant used the chapel of the black Panther as a studio for three months to paint the ship the Flying Dutchman, which ended up in the collection of the Stedelijk Museum in Amsterdam. "Ysbrant was a key figure in the gallery," says Adriaan Raemdonck. "He had a stimulating bond with Jan Cox and Fred Bervoets. He was an exceptional man whose work will remain."
Thanks to a fortunate donation, Ysbrant's oeuvre is strongly represented in the collection of the M HKA and the University of Antwerp. The American and Dutch entrepreneur Manfred Heiting made more than 20 paintings in 2020, some of which are on permanent display at Het Brantijser house on Sint-Jacobsmarkt 13.