Rooming is part of the sport. And it is all the more appreciable when it is done with good humor and a laugh! This is what the supporters of the United UBB association did. In the morning of December 05, they posted a video in which we see a Bordeaux fan, overhung by the flags of his club. Accompanied by a glass of red wine – to be consumed in moderation – he enjoys a dish of lentil sausage. A nod to the famous Toulouse sausages bursts the screen.
THEY DID IT ! ??#ILOVEUBB #UBBST pic.twitter.com/1dWrTbnUb6

– United BB (@UnitedBBrugby) December 5, 2021
RUGBY. TOP 14. UBB vs ST, the match seen from social networks
Whether on the networks after the match or on D-Day directly at the stadium, many have praised the welcome reserved for the premises. The international Cameron Woki reacted to this arrival on his twitter account. He says : "In 5 years in the club, I have never seen such an incredible welcome when the bus arrives. A big thank you to the supporters who are still there despite the weather. Thank you Bordeaux, thank you Chaban, thank you all ". He completed his remarks at a press conference: "The supporters greeted us with a lot of noise as soon as the bus arrived, that set the tone for the match. It's a highlight for the club and the supporters, to achieve our goal, we have to beat everyone ". The half-melee Maxime Lucu also reacted to this support he noticed in front of the press. He declares : "We felt the support of the supporters, the atmosphere was enormous".
a superb atmosphere with the arrival of the players of @UBBrugby #UBBST #UBB #arlfm

The direct ➡️ https://t.co/uQ7PqFNDHy pic.twitter.com/XyAKXnlgf4

– Dorian Malvesin (@MalvesinDorian) December 4, 2021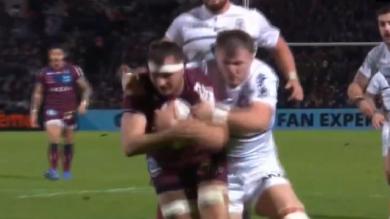 VIDEO. TOP 14. The CV of the match and the reactions to the Bordeaux victory against Toulouse!At the microphone of Canal +, Christophe Urios also mentioned the importance of this victory for the people of Bordeaux:
It's an important game for us. It went beyond the simple framework of a rugby match. It wasn't just the first against the second or the 12th matchday of Top 14. That's why I call it a game for the Lords. There were two great teams and great players. But this match had an important connotation for us. It was a communion. Last year, we couldn't have had an incredible season with our fans. We were missing something. Today was the opportunity to show that rugby in Bordeaux is important and that it is advancing, here and in the region.