Recipients of social assistance from the Middle East and North Africa "forget" to inform the authorities that they are going on holiday. Thus, they are cheating the state for tax-financed benefits they are not entitled to. By taking random samples of travelers at Danish airports, Denmark revealed hundreds of immigrants who were going on holiday to their home country at the taxpayers' expense.
"What is the Minister's position that residents on unemployment benefits and social assistance are exposed in fraud when they go on holiday without reporting to the authorities?" ask Pia Kjærsgaard in the Danish People's Party in a letter addressed to Acting Minister for Labor Mattias Tesfaye (S).
The question comes on the basis of an article in Berlingske, where it is revealed that immigrants from the so-called MENA country receive unemployment benefits, social benefits and sickness benefits at the same time as they go on holiday trips to their home country, is contrary to the law on social benefits, which is ready for social security recipients to inform about holidays and lose benefits. during holiday settlement.
– I want to start by stating that it is completely unacceptable when someone cheats with social security. It undermines the unity of our society. It is the task of the municipalities and the unemployment insurance funds to inform and check that residents on benefits must be available for the Danish labor market, Tesfaye answers.
Airport control
Mattias Tesfaye says that immigrants from non-western countries constitute by far the largest group among those who have been exposed to social security fraud. The revelations were made in 23 different inspections at Danish airports in the period 1 June 2021 up to and including 24 October 2021, he states in the answer to Kjærsgaard.
By taking random samples of travelers, it was revealed that many people had planned a holiday trip to their home country at the same time as they received social security benefits. Of the checked travelers, 585 people were considered to investigate further.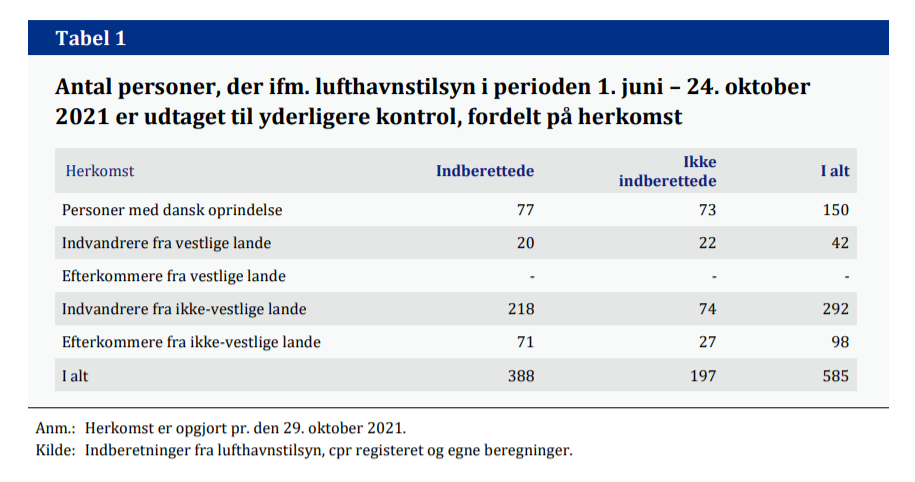 The Danish Agency for Labor Market and Recruitment (STAR) has carried out the inspection, and it shows that the proportion reported from MENA countries is significantly overrepresented. 289 reported out of a total of 388 are immigrants or descendants of immigrants from non-western countries. This indicates that approximately 75 percent of the travelers who were caught in social security fraud had a MENA background.
– STAR notes that this does not mean that the 388 people will be met with a claim for reimbursement of performance. STAR cannot assess whether the respondents have acted in violation of the rules. It will be decided in subsequent case processing in the unemployment funds and municipalities, Tesfaye writes further in its response.
Takes advantage of opportunities
It may appear that the immigrants have taken advantage of the corona situation, where controls at Danish airports have been suspended.
– We will not accept social fraud. We must combat public service fraud – even when citizens travel abroad and are not available for the labor market, Tesfaye told Berlingske in October.
In Denmark, the rules are such that if you receive social benefits such as unemployment benefits, cash benefits or integration benefits, it is illegal to travel abroad without notifying the unemployment insurance fund or the municipality first, corresponding to the Norwegian regulations for benefits from NAV.
It is after the controls were implemented again in June this year that very many have been taken to "forget" to inform about holiday trips to the countries of origin.
Tesfaye is clear that there is a need for extensive control of social security recipients, and that those who have received money they are not entitled to must both be fined and repay the money they have received illegally.
Social security fraud in Norway
Norwegian authorities have not checked us at the country's airports in the same way as Denmark's implementation. But similar to our neighboring country in the south, the proportion of covered cases of social security fraud has also fallen significantly during the corona year 2020. The number of reviews has fallen from a total of 968 in 2018 to only 355 in 2020, shows NAV's statistics.
Similarly, it is natural enough for notified amounts in the same period, with the exception and notifications in notifications of abuse of subsidy schemes which were introduced during the closure in 2020. While the total amount notified has been halved from 2018 to 2020, it has been significantly covered by fraud with wage compensation and advanced unemployment benefits during the corona year 2020. The proportion of this fraud that can be attributed to MENA immigrants is not specified in NAV's statistics.