With intense weather phenomena, November bids farewell to many areas of the country, causing problems and serious disasters in Western Greece and Thessaly.
The first snow fell in the Peripheral Unit of Trikala in the area of ​​Marosa at 1,500 meters altitude, while strong winds and rainfall caused problems in some areas.
Specifically, according to what the deputy regional governor Christos Michalakis told APE-MPE, there have been rock falls in the areas of Pyli, Mesochora, Myrophyllos, as well as Pyli-Alexiou bridge, while the stop of the Portaikos river and Pini is also at a high level. In fact, the traffic of vehicles has been stopped on the provincial road Megala Kalivia-Magoula, while nine machines of PE. Trikala assist to address the problems.
Landslides in Karditsa
Local rockfalls were caused by rainfall and strong winds and in some areas of the Regional Unit of Karditsa, mainly in the area of ​​Argithea, the controversies by the crews of PE. Karditsa, and the municipalities, as stressed in the APE-MPE by the deputy regional governor Konstantinos Nousios. According to him, the rise in river levels is at normal levels.
Serious problems in Epirus
A tornado hit the coastal village of Kastrosykia in Preveza at noon. Trees were uprooted while homes and businesses were badly damaged. Tiles and chimneys fell from roofs, windows were broken, while trees were uprooted by strong winds on the beach of Kastrosykia.
On the National Road Igoumenitsa-Preveza, at the height of Kastrosykia, due to the fall of trees, the traffic was stopped for a long time. From the heavy rains that hit the last 3 days in Epirus, problems have been created in many parts of the mountainous provincial network by rock landslides and carried materials.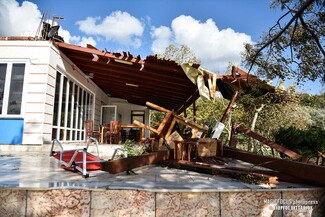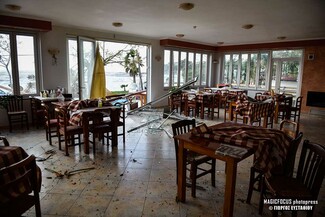 In the meantime, according to ERT, the ferry line Igoumenitsa – Lefkimmi and Igoumenitsa – Corfu remains closed for open type ships, while the route to Paxos was not closed due to the winds. Two-way and closed type itineraries are normal.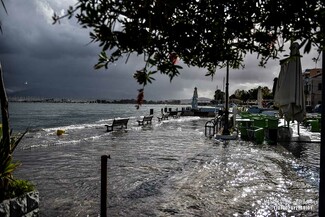 In Thesprotia, the Kalamas River is in a critical condition, as the water level rises and citrus crops have already flooded. The snowfall started at noon in the mountains of Epirus, the recordings will continue tomorrow, with a significant drop in temperature.
Problems in Patras as well
Today's bad weather also hit the city of Patras with strong winds and rain, causing floods from one end of the city to the other with cars turning into boats and roads into lakes in minutes.
Rio, Marina, Plaza and Akti Dymaion were the areas that "sank" from the sea waters that came ashore, according to the website thebest.
Follow it LiFO.gr on Google News and be the first to know all the news
See all the latest News from Greece and the World, at LiFO.gr