Status: 25.11.2021 12:20 p.m.
The Lodderbast cinema is the smallest cinema in Hanover and offers a very special program. Due to the new, strengthened 2G regulations in Lower Saxony, it will be temporarily closed.
Listen to the post
5 minutes
During the pandemic, Wiebke and Johannes Thomsen, the couple who own the Lodderbast cinema, kept coming up with new ideas to keep visitors happy, to keep going and, above all, to give them the opportunity to visit their cinema under strict hygiene rules. In Lower Saxony, nun gilds a strong 2G rule in many areas of public life. Johannes Thomsen is one of the owners.
Mr Thompson, you are closing your Lodderbast cinema and postponing the planned film festival, which was due to take place on December 4th. Why?
Johannes Thomsen: As a cinema operator, we have a certain responsibility to assume a kind of role model role. We have to be a role model in a way. It is a difficult decision, but we have considered that we cannot have a film festival with a clear conscience if a large majority of the population is trying to contain the pandemic as much as possible and get through the winter. That's just not right.
You have published a video on social media that shows you the anger that is behind it. What is it that makes you angry?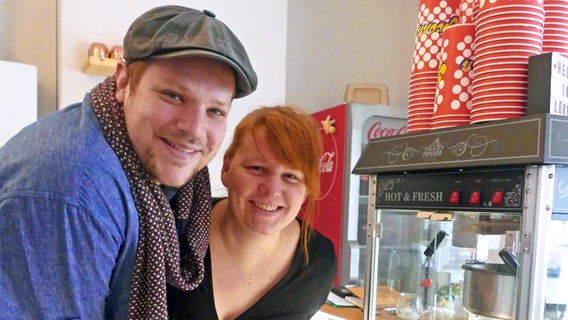 Wiebke and Johannes Thomsen from the Lodderbast Kino are annoyed by the late political measures and demand solidarity among those unwilling to vaccinate.
Thomsen: These are different parts. We have been closed continuously since March 11th last year. And accordingly, we have always accepted what politics has set as the route to be followed. We said: "Of course we will do it, we support it. We stand behind it and find it sensible." But this fourth wave is something different for us. That is no longer a higher power – as a trigger, of course, of course – but the consequences were foreseeable.
For months, virologists in Germany have been talking about the fourth wave coming. For me, what came out of politics was simply far too little. One should have answered much earlier. What is happening now could have happened a few months ago. That is what has brought us into distress and what will also bring restaurateurs and other cultural workers into distress in the next few weeks. And of course that makes us angry. The other part is that we still find that the attitude of not getting vaccinated is a very selfish attitude that is completely out of place at the moment, I think solidarity is required here. If I can make a minimal contribution through my own vaccination – no matter how small it is – then I feel called upon as a citizen in a social society to make this contribution.
The Lodderbast cinema seems to be very popular, because there are already donations to YOU. How will you benefit? What creative ideas are there to keep going?
Thomsen: We are now sitting in front of a small mountain and do not know how to get over it. We will think of something and of course we will use the donations for that. We put everything on one card. We said we would reopen on December 4th with the film festival. It won't work now. Greetings to every economic boss who has the feeling that he has to do something good and give culture a helping hand. Of course, he can contact us and send us a large donation. We didn't publish the video to collect donations, but because we wanted to vent our displeasure and inform our guests. Because they have carried us through the pandemic to this point and we owe them answers.
I saw that many of the films at the festival were already sold out?
Thomsen: Yes, the festival would certainly have been a very good success.